A rare and unusual Japanese Meiji Period (1868-1912) bronze jardiniere, the shaped formed from a gaggle of geese with inlaid gold eyes.
Condition – Excellent, very minor verdigris to the unfinished inside of the vessel, to be expected with age and use.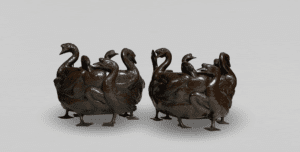 Chinese Geese
Chinese geese are a species of domestic goose descended from the wild swan goose, they came in brown and white colourings and have a large basal knob on the top of their bills. They are prolific egg layers and found in many countries around the world including Japan. Goose meat has long been regarded as a luxury for the imperial classes and aristocracy.