A dramatic wood carving decorated with Gold lacquer and depicting the Chinese General Guan Yu.
Standing on a red wood base.
Condition is very good. Contact us for further images or to arrange a viewing.
Exemption certificate – TCXG2VLJ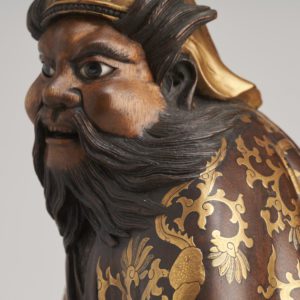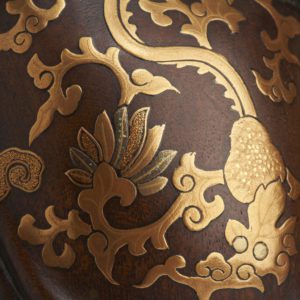 Guan Yu (Chinese)
Guan Yu (160AD-220AD) was a real Chinese general who served during the late Han Dynasty under the warlord Liu Bei. He was famously loyal to Liu Bei and they shared many exploits together, these became part of the 14th century historic novel 'Romance of the Three Kingdoms'. Due to his loyalty and righteousness Guan Yu is worshipped by many people across Asia, he is an important deity in Chinese Buddhism, Confucianism and Taoism, as such you will often see small shrines to him in Chinese dwellings.
Guan Yu is a popular Character in Japan, stories of his exploits and depictions of him are common in Japanese art. He is usually seen with his famous Green Dragon Guandao (double edged pole blade) and sometimes on the legendary horse 'Red Hare'.