Depicted in fine golden and copper toned silk on a deep purple background, both Lions appear to be stalking an unknown prey. The female strides forward ahead of the male.
The painterly use of light and iridescent silks is particularly artistically noteworthy and adds a three dimensional element to the work.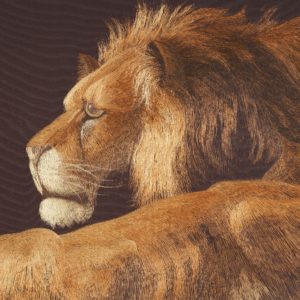 It is well mounted in a solid, well made frame contemporary to the artwork.
The subject is very likely to be based on the sketches of Edwin Landseer. Landseer was a popular and prolific British artist active during the Victorian era. He is perhaps best known for his monumental lion sculptures which flank the base of Nelsons Colum in Trafalgar square.
The condition is very good. Please don't hesitate to contact us for additional images, further information or to arrange a viewing.
Lion
The lion is a symbol of power strength and protection, you will often find pairs of lion stature guarding temples or religious sites in Japan.
Silk pictures for export
It is not uncommon to see Japanese silk copies of European paintings or prints, during the Meiji period Japan opened up to the world and as they traded more they realized that producing images to appeal to Western tastes could be profitable. They would purchase prints of popular western paintings and copy them in silk sometimes adding their own details, one of the most popular subjects was Edwin Landseer's famous lions.