An impressive large (60cm in length) Bronze group, this Okimono depicts the Japanese Lucky God Hotei, (commonly referred to in the West as The Laughing Buddha.) He is sitting atop a strong and muscular Ox. A nearby young child looks on.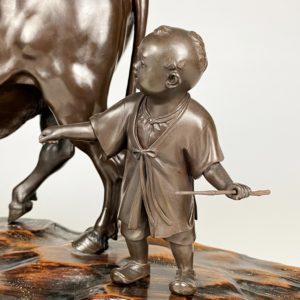 The Ox, (quite clearly a Bull) appears to be effortless carrying the substantial weight of the Deity and his trademark large cloth sack.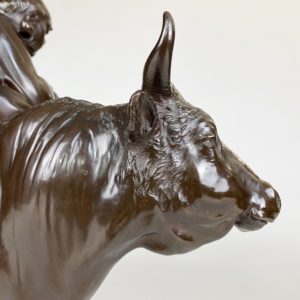 The group stands on a fantastic, textured piece of hard wood.
Condition is great.
Please feel free to contact us for more images, video or to arrange a viewing. (Video or in person.)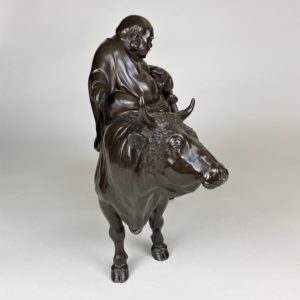 The Ox is the symbolic Zodiac creature of 2021!
Hotei (Budai)
Hotei (Budai in Chinese) is one of the seven lucky gods, originating from China, he is traditionally depicted as a fat happy Buddhist monk also known as the Laughing Buddha. Due to his nomadic lifestyle Hotei carries around a large cloth sack which is where his name comes from, there are many speculations as to what is in the sack, but it is generally thought to contain candles and toys for children.
Ox
The Ox is an auspicious animal in Japanese culture, as well as being used for transport and farming it is one of the twelve animals of the zodiac, symbolising strength and perseverance.