This large, antique Chinese Temple jar depicts two large dragons amidst chrysanthemum and mallow blooms. The shoulder and foot of the vase with yellow bands with floral scrolls and magpies flying amongst pink blossoms.
The cover with similar decoration: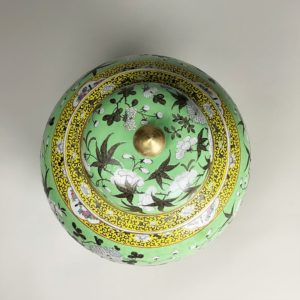 Dragon (Chinese)
The Chinese Dragon is an instantly recognizable symbol of China and was used by the imperial Emperor as sign of his power and strength. They are most commonly depicted as snake like creatures with legs, Asian dragons are rulers of weather and the sea and as such do not need wings to fly. They are not aggressive monsters as often depicted in Western myths, but more creatures of great wisdom who often help mankind and as such they are regarded as lucky. Generally you can tell a Chinese dragon from a Japanese by counting the toes, a Chinese having four or five and a Japanese having three.
Temple Jar
A temple jar is a traditional vase shape with a domed lid with some form of finial or decoration. There are several theories as to why they are called temple jars, one being the lids resemble the top of a temple another being they were originally used to hold the remains of deceased loved ones. Traditionally they were originally used as containers for spices and salts, and later became decorative objects.