A fine Bronze Okimono of an archer by Gyoko. The figure is poised with his target insight, bow primed and ready to fire. His chest plate with an elaborate patinated Dragon and his robes with Mon. To the rear, a gilt tablet with the artists mark.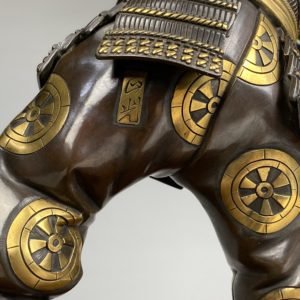 His eyes trained on the target and picked out with Shakudo.
The figure stands on a fine quality Japanese hard wood base.
Condition is excellent. Please feel free to contact us for pricing, additional images or to arrange an appointment to view.
Samurai
The famous samurai of Japan were a hereditary military nobility caste who help to shape and rule Japan from the 12th Century to their abolition in the Meiji period. In Japan samurai are known as bushi (meaning warrior) they we're usually associated with a clan or lord and were highly trained officers in combat and strategy. They lived by the code of bushido (way of the warrior) which was Confucian in origin, and taught loyalty, self discipline and respect. They used many weapons including spears, bows and arrows and later on guns, but they are most famous for their swords. The Japanese Samurai blade is made by laminating metal (repeatedly folding) to create a very sharp but brittle edge which could then be combined with a central strip of stronger metal to create a blade. Despite being the best known use of this technique Japan only adopted it in the 1200's, Western civilizations such as the Celts had been using this method 2000 years before. The right to own and wear swords in public was a privilege granted only to the Samurai, they would usually wear a Daisho (pair) of swords, one larger than the other, there are many sizes and classes of samurai swords but the most common pairing would be the Katana and the Wakizashi.
Shakudo
Shakudo is an alloy of gold and copper which can be treated to develop a black patina.
Gyoko
Gyoko was a metalwork artist based in Tokyo active during the second half of the Meiji Period (1868-1912). His workshop produced a wide verity of metalwork depicting many different subjects.