A characterful Japanese Meiji Period (1868-1912) Myochin Jizai iron Okimono of a Shachihoko or Dragonfish with golden eyes.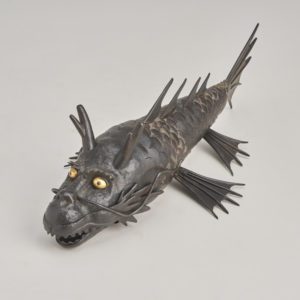 The fish's jaw and fins move and the body is made in segments allowing it to move up and down and side to side.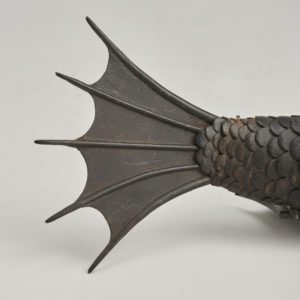 Good condition, some very minor rusting and stiffness of joints as to be expected with age.
Please feel free to contact us for further information, additional images or to arrange an appointment to view.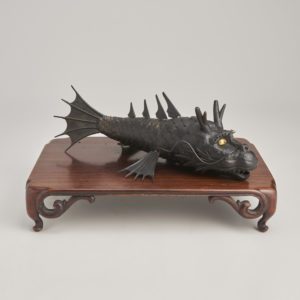 Shachihoko
The Shachihoko (or Sachi) is a type of mythological fish in Japanese folklore, it is said to have the head of the tiger and the body of the carp. It often has dragon- like features, such as horns or whiskers. It was believed that the fish could summon rain, so they often adorned flammable wooden castes and temples.
Jizai
Jizai (from the Japanese to move) Okimono are articulated sculptures of insects, sealife or animals. The first ones were made as curiosities by the armorers for the Samurai, they were put aside as a bit of fun. But when the Meiji Restoration happened and the Samurai became obsolete, the armorers had to find a new use for their skills. They turned back to Jizai making and developed their skills using many different metals, such as iron, bronze and silver. The resulting artworks were very popular in west and it became a new source of revenue, the Myochin family were particularly skilled Jizai artists and many of their works now reside in museums.