A superb example of early 19th Century Chinese porcelain, this very large, decorative Canton punch-bowl is part of our collection of Fine Chinese ceramics.
In good condition, (some minor loss to paint to be expected with age… and size and some minor restoration to luting line )
The interior with one continuous scene depicting noble men and ladies in pavillions. The exterior with more decorative scenes framed with floral borders, butterflies, blossom and birds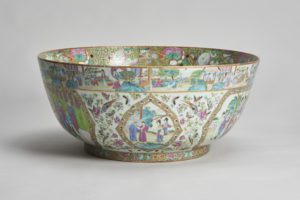 Canton
Canton or Cantonese is a style of porcelain decoration produced in Guangzhou, Guangdong in the 18th, 19th and 20th centuries.
Prior to 1842 Guangdong was the only port that could legally export to Europe. It is typically decorated with panels of figures, birds and insects on complicated grounds usually in pallets of green and pink.