A charming and intricately carved Wood Okimono of the Japanese Lucky God Ebisu. He has a joyful expression on his face as he holds under his arm a giant carp. His right hand raised in the air and holding a knife ready to gut his catch. He stands triumphant with one foot raised from the ground as if dancing a jig.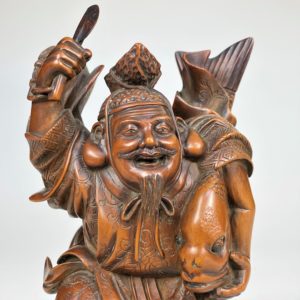 Condition is very good. Please feel free to contact us for additional images, to discuss pricing or to arrange a viewing.
Seven Lucky Gods
In Japan the seven lucky gods or seven gods of fortune grant good luck and are often represented as a group or on their own in Japanese art. There are seven gods but sometimes only six will be depicted as Jurojin and Fukurokuju share the same origin.
Ebisu – god of wealth in business and abundance in crops, he is usually dressed as a fisherman
Carp
Due to them being the only fish to conquer the waterfalls of the yellow river carp represent courage and strength in Japanese culture, the gift of a Koi carp is believed to grant the receiver great strength.