A dramatic, large Bronze vase with a black Shakudo ground and depicting a flock of red-crowned cranes in flight. The birds on-laid to the vase and made of silver, gold, copper, Shibuichi and Shakudo.
The effect is understated and subtle and almost as though the birds are flying under moonlight.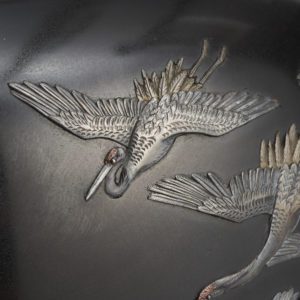 The reverse of the vase is blank.
Standing on a Japanese hard-wood base.
Condition is very good. Feel free to contact us to make an enquiry or for additional images.
Red Crowned Crane
In Japan the the red crowned crane is a much revered bird it is a symbol of strength, good fortune and longevity. The Crane was thought to live for 1000 years, in captivity red crowned cranes have been known to live for 75 years making it one of the longest lived birds. The red crowned crane is currently endangered due to loss if it's wetland habitat with less then 2000 individuals in the wild, about 950 of these being in Japan.
Shakudo is an alloy of gold and copper which can be treated to develop a black patina.
Shibuichi is an alloy of silver and copper which can be treated to develop a grey patina.