An attractive large pair of 19th Century Chinese Moon flasks. On one side they depict a Noble lady on horseback with her attendants whilst on the reverse a pair of pheasants sit in the branches of a tree surrounded by blossoming Magnolia and Peonies.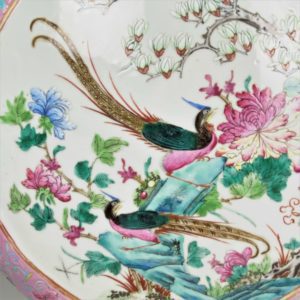 The circular form vases with gilt Chilong handles either side of the neck.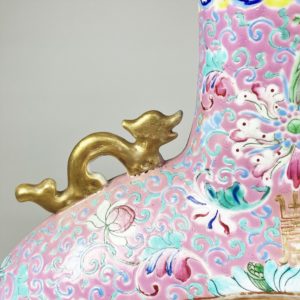 Contact us for more information.
Chilong
A Chilong is the Chinese word for a baby dragon, an immature dragon can be identified by it's lack of horn. Their image is often used to form handles or decorative mounts for vases.
Pheasant (China)
The pheasant and phoenix are interchangeable in Chinese culture and represents beauty and good fortune.
Peony (Chinese)
The peony is one of the symbols of China, the name in Chinese translates to most beautiful and it is often used in important and religious ceremonies as it has connotations of royalty and honour.
Moon Flask
The moon flask or pilgrim vase is charactarised by it's flat circular shape which represents the moon, it's a shape very popular in Chinese porcelain and was inspired by middle eastern metal ware.
Famille Rose
Famille Rose is a style of porcelain decoration that has a mainly pink palette.