A beautiful pair of Japanese Bronze figures depicting Geese signed by the celebrated Maruki company and dating from the reign of Emperor Meiji, 1868 – 1912.
Both geese with a rich patination and using precious metals to pick out the detail such as gold inlaid eyes. One bird with left wing raised and seemingly pruning her coat.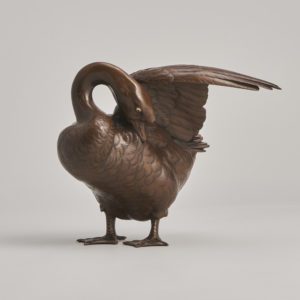 The second bird with both wings outstretched as if startled and looking to scare off a potential threat.
Condition is excellent in both birds and they are standing on a hard wood presentational stand. Please feel free to contact us for additional information or to arrange a viewing.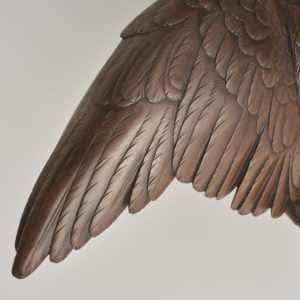 Chinese Geese
Chinese geese are a species of domestic goose descended from the wild swan goose, they came in brown and white colourings and have a large basal knob on the top of their bills. They are prolific egg layers and found in many countries around the world including Japan. Goose meat has long been regarded as a luxury for the imperial classes and aristocracy.
Maruki
The Maruki company was active during the Meiji Period (1868-1912) in Japan, they stand out for the quality and weight of their okimono and are know for producing fine bronzes of animals.