An attractive and slightly risque pair of late 19th Century, Japanese patinated bronze vases with multi-metal decoration depicting a gourd vine. The Gold Gourds themselves possibly the 'Summer King or Fukujyu' variety is probably intentionally phallic in appearance, you can almost imagine the metalworker chuckling away to himself…
A lone cricket rests on a leaf amongst the foliage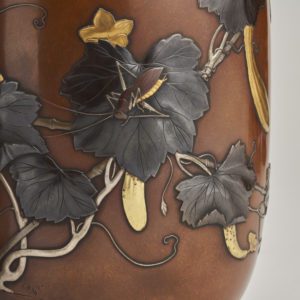 They stand on hard wood bases, themselves decorated with intricate gilt inlay work.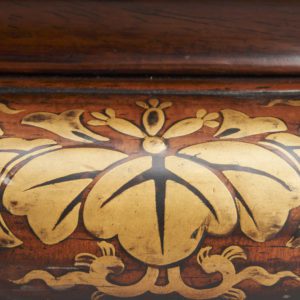 These vases were exhibited as part of our collection of fine Japanese Meiji-era metalwork at the LAPADA London Art Fair in 2019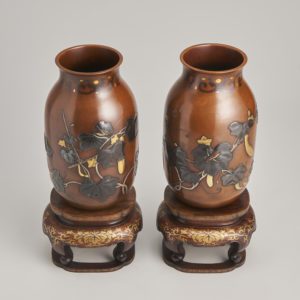 They are offered in excellent condition. Feel free to contact us for additional information, pricing, images, video or to arrange an appointment to view.
Gourd
The calabash or long melon has been used throughout the world as a vegetable and container. They were one of the first plants grown primarily for use as a container. Older fruits are dried and hollowed out to form a bottle used to store and transport liquor or medicine, and as such are a symbol of health in Asia.
Gourds come in many shapes and verities, due to their often phallic form gourds can represent fertility or more often than not are the butt of a risque joke or drawing.