Bearing the signature of the highly respected Miyabe Atsuyoshi (of Kyoto), this pair of beautiful Bronze vases are from our collection of Japanese, late 19th Century multi-metal ware.
Depicting egrets standing in shallow water under the boughs of a tree, these vases are decorated with onlaid Gold, silver and Shakudo.
The reverse, with less decoration and depicting birds in flight.
Both vases signed to the underside.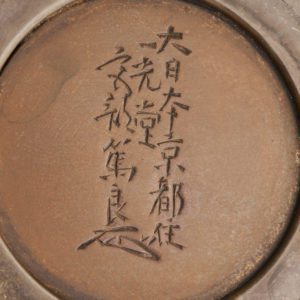 Condition is very good. Contact us for further information or to enquire about price and availability.
Heron/Egret
The heron often stands still for long periods of time stalking prey, because of this they represent patience in Japanese culture, and are associated with the harsh cold of winter.
Wisteria
Wisteria symbolizes love, the long life of the plant also represents immortality and longevity, so it is a popular motif in Kimono designs and Japanese Art. Much like the cherry blossom it is popular to have viewing parties when the vines are in flower.