A magnificent, lavishly designed silk Kimono  with auspicious depictions of Bamboo, plum blossom, red-crowned Cranes, Cockerels and long-tailed Tortoises. From the reign of Emperor Meiji, (1868-1912) this style of Kimono is a typical example of fine pieces created for export to the West as the desire for Japanese art, design, furniture and embroideries was at its peak.
Similar examples were shown at the Victoria & Albert Museums' "Kimono: From Kyoto to Catwalk" (2020)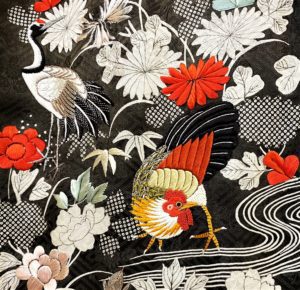 Condition is very good. Please don't hesitate to contact us for additional information or to discuss in further detail.
Red Crowned Crane
In Japan the the red crowned crane is a much revered bird it is a symbol of strength, good fortune and longevity. The Crane was thought to live for 1000 years, in captivity red crowned cranes have been known to live for 75 years making it one of the longest lived birds. The red crowned crane is currently endangered due to loss if it's wetland habitat with less then 2000 individuals in the wild, about 950 of these being in Japan.
Chicken
Celebrated and much revered in Japan the noble chicken is a symbol of many things including love, luck, prosperity and courage. It's crow was said to banish the darkness when it awoke the sun goddess Amaterasu, it is an auspicious symbol in the Shinto religion and reverence for the chicken dates back to the earliest tomb paintings in Japan.
Minogame
A minogame is a Japanese mythological creature based on the tortoise. It is believed that once a tortoise reaches 1000 years old it becomes a minogame, the long tail is actually alge and weeds which have grown on the shell due to the extreme longevity of the beast.
Due to their old age minogame represent longevity and are often seen with the luck god Fukurokuju.
Kimono
Kimono meaning 'Thing to wear' are synonymous with Japan and Japanese fashion. A simple straight sided garment, worn by men, women and children, they originated from peasants clothing in the 16th century. Over time they became more popular and lavish, being made of many layers of fine silk with delicate embroidery. Patterns and decoration are very significant, depicting status and loyalties, popular motifs are cranes (long life) mon (family loyalties) bamboo (strength) and plum blossom (the arrival of spring). Decoration can take on a more pictorial design with whole landscapes being depicted, some 19th century Kimono display very modern themes such as aeroplanes of war and skyscrapers of industry.
The way you wear a kimono is very significant, the left side of the garment is always worn on top, only those who have passed away wear the right side on top. This can be helpful to know when identifying ghosts in Japanese art. The Obi is the sash belt worn around the middle, if this is tied at the front is suggests the wearer is a courtesan.