Standing on a gnarled Bronze tree stump and cleaning one of his talons, this beautiful Japanese Bronze Okimono of a hawk is available for purchase as part of our collection of Meiji-era (1868-1912) metalwork figures of birds and animals.
The bird with Gold talons and beak, with glass eyes creating a stunning effect on the otherwise black patination.
Condition is very good.
Signed to the underside.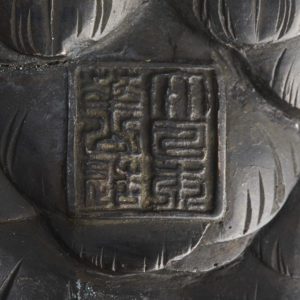 Contact us for further images or to arrange a viewing.
Hawk
The hawk is traditionally a symbol of nobility and wealth, due to the expense of training and caring for the birds.
Falconry in Japan (Takagari)
Falconry has a long history in Japan beginning in the 4th century, originally coming from China via Korea. Due to the time, effort and cost of keeping birds it has always been a pursuit dominated by nobles or wealthy individuals.  Goshawks and Eagles being popular and high status birds to won, falconry was used to entertain but also to settle disputes between lords.