An elegant late 19th Century Japanese Bronze vase standing in a Bronze stand and depicting koi carp swimming amongst reeds in shallow waters.
The fish decorated with brightly coloured details in gold, silver, copper, and shakudo on a shibuichi ground representing the river. The reeds are depicted flowing in a way to indicate the Carp swimming against the current, a popular motif in Japanese culture. The Bronze stand, an impressive work of art in it's own right, is designed to look like branches of wood appearing from the water.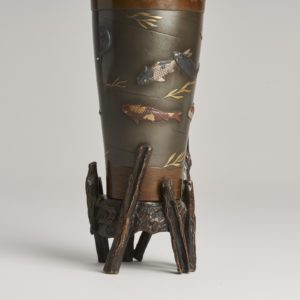 Condition is excellent. Contact us for more information or to arrange a viewing.
Carp
Due to them being the only fish to conquer the waterfalls of the yellow river carp represent courage and strength in Japanese culture, the gift of a Koi carp is believed to grant the receiver great strength.
Shakudo is an alloy of gold and copper which can be treated to develop a black patina.
Shibuichi is an alloy of silver and copper which can be treated to develop a grey patina.