This exquisite and serene Japanese Bronze plaque depicts Minamoto no Yoshimitsu playing the Sho. He is seated on a rock beneath a tree and in the distance military banners hint at an impending battle. A full moon close to the horizon completes the scene.
Set in its original hardwood frame (simulating Bamboo), the plaque is decorated in relief with gold, silver, shakudo and shibuichi.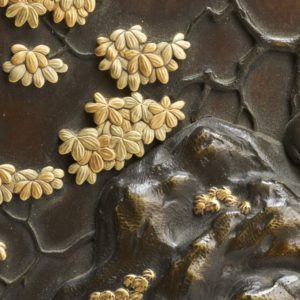 A vertical Gold cartouche in the lower right corner reads Fukuda.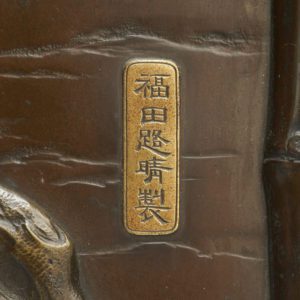 Sho
The Sho is a Japanese reed based instrument originally from China, it consists of seventeen bamboo pipes, two of which are non functioning and purely for aesthetic purposes. It is said the mimic the call of of the Phoenix.
Minamoto no Yoshimitsu
Minamoto no Yoshimitsu came fro ma large family of warriors, he was the son of Yoriyoshi and yonger brother of the celebrated Yoshiie, he helped his brother to his most famous victory by rushing to his aid against Kiyowara at Kanezawa in Dewa (1087)
He was a skilled musician and is often depicted playing and teaching the sho to others.
Fukuda Michiharu
Not a lot is known about Fukuda Michiharu, but his surviving works are primarily in bronze and occasionally iron and show great skill and artistic achievement.