In excellent condition, this ornate pair of Canton garden stools date from the mid-19th Century and are part of our collection of Chinese ceramics. Hexagonal in form and identically decorated with bright pinks, golds, greens and blues, the stools depict idyllic scenes of rural and village life with ladies and children at the banks of the river and seated men playing games.
Please feel free to contact us for more information, photographs or to arrange an appointment.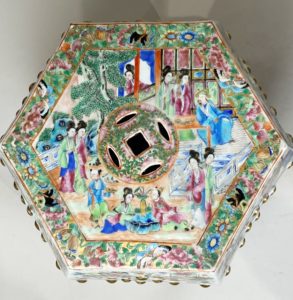 Garden Stool
The classic form of the Chinese garden stool has been around for over 1000 years, they are thought to be a more formalised form of the Buddhist garden tradition of sitting on natural features, such as tree stumps of smooth rocks. The from itself is based on the ancient Chinese drums made from wood with a skin stretched over and nailed in place, you can still see a nod to these large pins in the moulded designs found on most garden seats.
Canton
Canton or Cantonese is a style of porcelain decoration produced in Guangzhou, Guangdong in the 18th, 19th and 20th centuries.
Prior to 1842 Guangdong was the only port that could legally export to Europe. It is typically decorated with panels of figures, birds and insects on complicated grounds usually in pallets of green and pink.