Welcome back to our quarterly newsletter. Since our last edition we have been in and out of lock-down and spent the rest of the time in the two highest tiers of Corona restrictions. But we're not complaining.
There are many reasons to be optimistic about 2021 and in the meantime, our much-loved Camden Passage is looking festive under the Christmas lights and the scent of chocolate, gourmet cheeses, speciality coffee, mulled wine and perfumes emanates from the boutiques and coffee shops on our doorstep.
With each newsletter, our aim is to bring some of the wonders of our collection of Chinese and Japanese Fine Art and Antiques into your home. In this edition we introduce you to some fascinating characters from Japanese legend, we take another dip into the archives and we showcase some of the wonderful new pieces that have been added to our online gallery in the last few weeks.
We hope you enjoy the read!
Kevin Page Oriental Art
A snow-covered Winter scene on an exceptional vase and cover by Meizan. Click here to see more
Coronavirus and Festive Opening
Along with the rest of London and much of the South-East and because of a recent rise in cases, we have recently been placed into Tier 3, (the highest level of Corona virus restrictions.)
Shops and galleries are allowed to open providing they meet rigorous socially distancing requirements.
We will be limiting the number of people on site at any time and we do have an ample supply of masks, gloves and hand sanitizer. If you are thinking of visiting our galleries during the festive period, make sure to contact us at least one day before in order to arrange an appointment.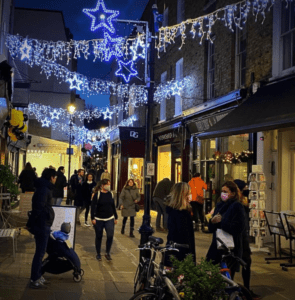 The new normal. A festive looking Camden Passage, masks and all..
After the flood
The beginning of December brought with it the four year anniversary of the fateful day in 2016 when a water main near to our Islington galleries burst. The National press would go on to call it "A Tsunami ripping through the heart of Camden Passage."
It's a miracle that nobody was badly injured or worse and more than fifty households and businesses were evacuated. It would be almost two years before some (including us) were able to return after extensive repairs and renovations were completed.
You can read more about the flood and see more photographs here.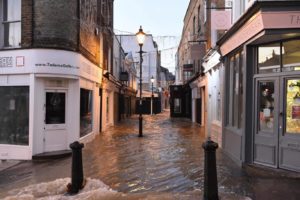 The flood waters surge through Camden Passage and down towards Charlton Place
The legend behind the art
In our latest "Stories behind the art" blog posts for our website, we have written short pieces about some of the most popular characters in Japanese Mythology. Ashinaga and Tenaga are a pair of unlikely (and ungainly) fishermen who team up to create a formidable partnership. Whilst Hotei, (affectionately also known as "The Laughing Buddha") is a much-loved Deity. One of the Seven Lucky Gods, legend has it that if you rub his belly, it will being good luck and prosperity.
Read more about these fantastic characters & see some great photos here.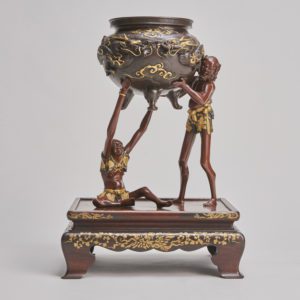 A fine Miyao Koro depicting Ashinaga and Tenaga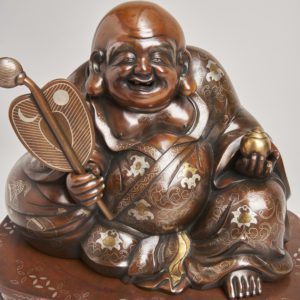 A fantastic Meiji-era Bronze Okimono of Hotei
Follow us on Instagram
A few weeks ago, we reached our goal of 2,000 Instagram followers and our aim is now to double that number in 2021.
We regularly post interesting stories and fascinating photographs from our ever growing collection of Chinese & Japanese Fine Art and Antiques, so feel free to spread the word if you know anybody who might be interested.
You can find us at @kevinpageorient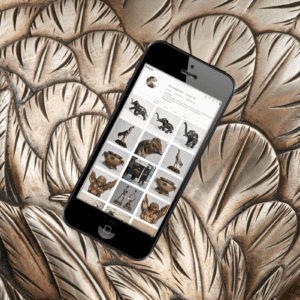 If you missed any of the previous editions of our Newsletter, you can find them on our website by visiting the News and Events page.
We hope you have enjoyed our Winter Newsletter. Please feel free to tell your friends to sign-up if you think it might be of interest.
For now, we would like to wish all our customers, friends and followers a very Merry Christmas, a Happy New Year and a healthy and prosperous 2021.