Welcome back to the online edition of our quarterly newsletter. It certainly feels like it's been a long, cold and dark Winter but the arrival of Spring brings with it a renewed sense of optimism: Longer days, blossoming trees and the prospect of a return to some sense of normality after a very challenging last 12 months.
With each edition of the newsletter, our aim is to bring you some fascinating stories about (and images from) our collection of Chinese and Japanese Fine Art and antiques. This one is no exception. We have a wonderful new video, (a collaboration with our friends at BADA), that showcases some exceptional Japanese Meiji-era metal work, an intriguing tale of jealousy, greed, kindness and karma in the Fable of the Tongue-Cut Sparrow, an in depth interview with Kevin as we launch our partnership with The Bruno Effect and as always some fascinating new additions to our online gallery.
We hope you enjoy the read!
Kevin Page Oriental Art
Read all about it:
We recently signed a partnership with the exciting new Antique, Vintage and Design platform, "The Bruno Effect" and to celebrate the upcoming launch (June 2021), Kevin sat down with journalist Dominic Lutyens for a profile piece to feature in TBE's digital magazine, "Effect."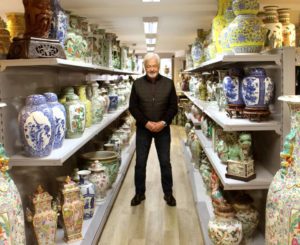 The article talks about how Kevin first became interested in Oriental Art and charts the history of the business from the early days (and early starts) at Bermondsey and Portobello markets through to more recent years with the devastating flood of 2016 and now to our innovative new website.
You can read the full story on our News & Blog page. Click here.
Watch our new video
We recently teamed up with our friends at The British Antique Dealers Association as part of their project to shine the light on some of the UK's leading collections. The result is this great short video where Kevin talks about his passion for Oriental Art, gives a short history of the business and showcases some fascinating Japanese Meiji-era metalwork.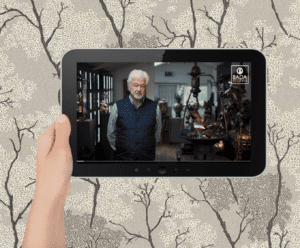 Click here to watch the video.
Open for business
In line with the latest advice from the government, we are hoping that we will be to able to re-open our doors to customers from Monday, 12th April. As always it will be by appointment only, so feel free to contact us if you are planning a visit to London.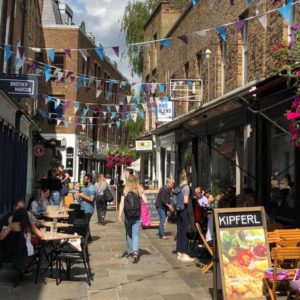 In the meantime, we can also offer Virtual Visits via FaceTime. Again if you would like more information, just visit the contact page on our website.
The legend behind the art
The sparrow is a popular creature in Japanese mythology and is thought to represent intellect and good nature. Earlier this month we retold the fable of the "Tongue-cut Sparrow".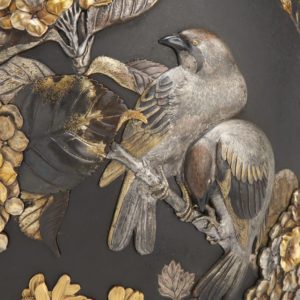 It is a much loved tale of greed, rage, jealousy, kindness, humility and ultimately, karma.
We also wrote a short blog to mark International Women's Day, featuring works of art depicting women including iconic characters from Japanese legend, doting mothers, noble ladies, Bijin and courtesans.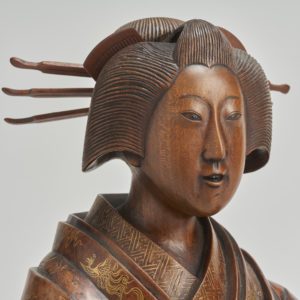 Read more about these fantastic characters & see some stunning photos here.
Take a look at our new additions
Each week we continue to add more stock to our website. Here are a selection of some of the latest additions. There is an amazing selection from 17th Century Chinese porcelain to fine Cloisonne vases, Shibayama decorated Silver bowls, Meiji-era Bronze Okimono and much more. Click here to see in more detail.
Leave a review
It's been a challenging time for the trade in the last 12 months and trying different ways to find new customers. One way you can help is by leaving us a review on Google. It only takes a couple of minutes and can really help us make a good first impression with potential new clients in what is becoming a very competitive online market place.
If you have brought from us in the past or if you simply enjoy these newsletters, it would be great to hear from you. Click here to leave a review.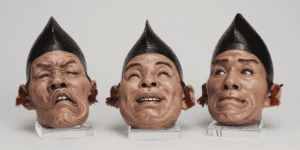 Like and Share
If you would like to be kept updated with great photos and content from our collection of Chinese & Japanese Fine Art and antiques why not join our ever-growing community of followers on Instagram.  Each week we share new images, interesting facts and amusing anecdotes and stories from our collection.
You can find us at @kevinpageorient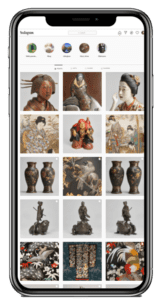 If you missed any of the previous editions of our Newsletter, you can find them on our website by visiting the News and Blog page.
Until next time, we hope you enjoyed our Spring Newsletter.
Stay safe.
Kevin Page Oriental Art