Yesterday evening the Government announced a new National lockdown which would come into place with immediate effect. Whilst this is not the way we had hoped to begin the New Year, the surging number of Corona virus cases around the country makes it the only viable solution for now.
As a result, unfortunately our Camden Passage Galleries will be closed for visitors until these restrictions are eased, hopefully in the coming weeks.
However, this being the digital age, we are still able to provide pricing and information as well as condition reports on any items from our collection of Chinese and Japanese Fine Art and Antiques AND we will continue to add new pieces to the website  during this latest lockdown. In fact we recently added this stunning, miniature multi metal Koro depicting a Samurai. Click here for more information and photographs. We will also be able to arrange shipping and delivery although of course there may be some impact on delivery time.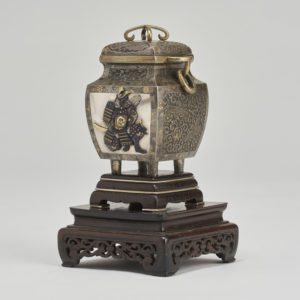 Finally, if you are looking for something to help pass the Lockdown time, then you are very welcome to follow us on Instagram @kevinpageorient where we have hundreds of great images and stories from our collection.
Please don't hesitate to contact us and we will do our best to respond as promptly as possible.
We would like to take this opportunity to wish all our friends, customers, partners, followers and website visitors a Happy and Healthy New Year.
Stay safe and we hope to see you very soon.