One of our favourite Satsuma artists is Okamoto Ryozan. In fact, he is widely regarded as one of the finest Satsuma artists of the Japanese Golden age of creativity and manufacture.
Here at Kevin Page Oriental Art, we are very lucky to have a number of fantastic works by Ryozan in our collection of Japanese, late 19th Century Ceramics. So in this short-read blog we shine a light on his work and we have selected just a few of his wonderful creations. (You can click on any of the images for a closer look.) We hope you enjoy the read.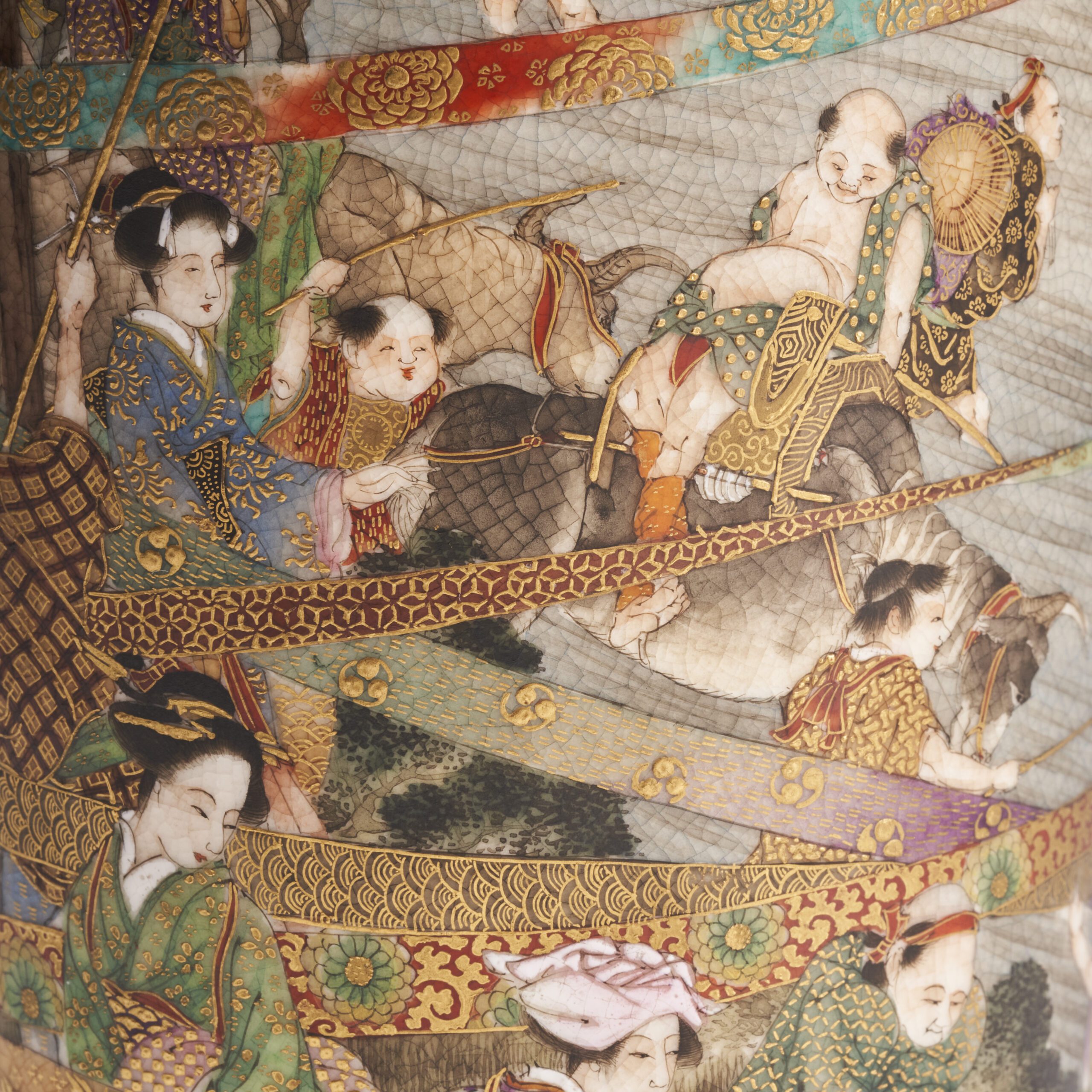 Villagers enjoying a kite-festival on this beautiful oviform vase by Ryozan
Born Nakamura Tatsunosuke, Okamoto Ryozan was trained by the legendary 10th generation potter Nishimura Zengoro who himself, used the artist's name "Ryozan". After Nishimura's death in 1851, Nakamura Tatsunosuke adopted the name "Okatomo Ryozan" in order to pay tribute to and honour his master. Ryozan would go on to become the Head Artist at the Yasuda Company of Kyoto where he would cement his reputation as one of the great artists of his generation.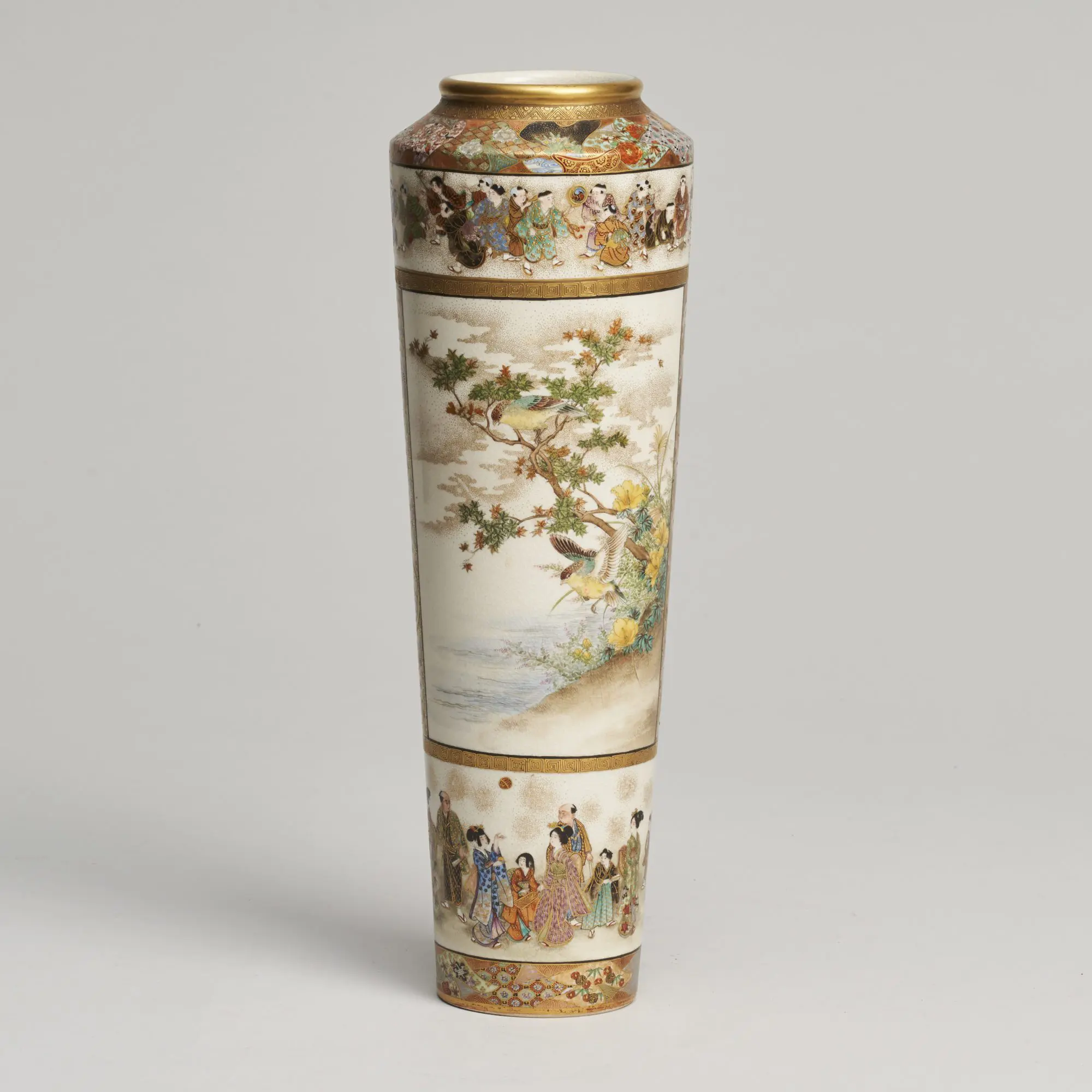 Another wonderful vase by Ryozan for the Yasuda Company
His work ranges in size and shape but consistently has a fine, painterly quality to the decoration. Human faces are rendered with particular skill. The fine quality of his painting and the dynamic complementary palette make his work highly sought after and very collectable.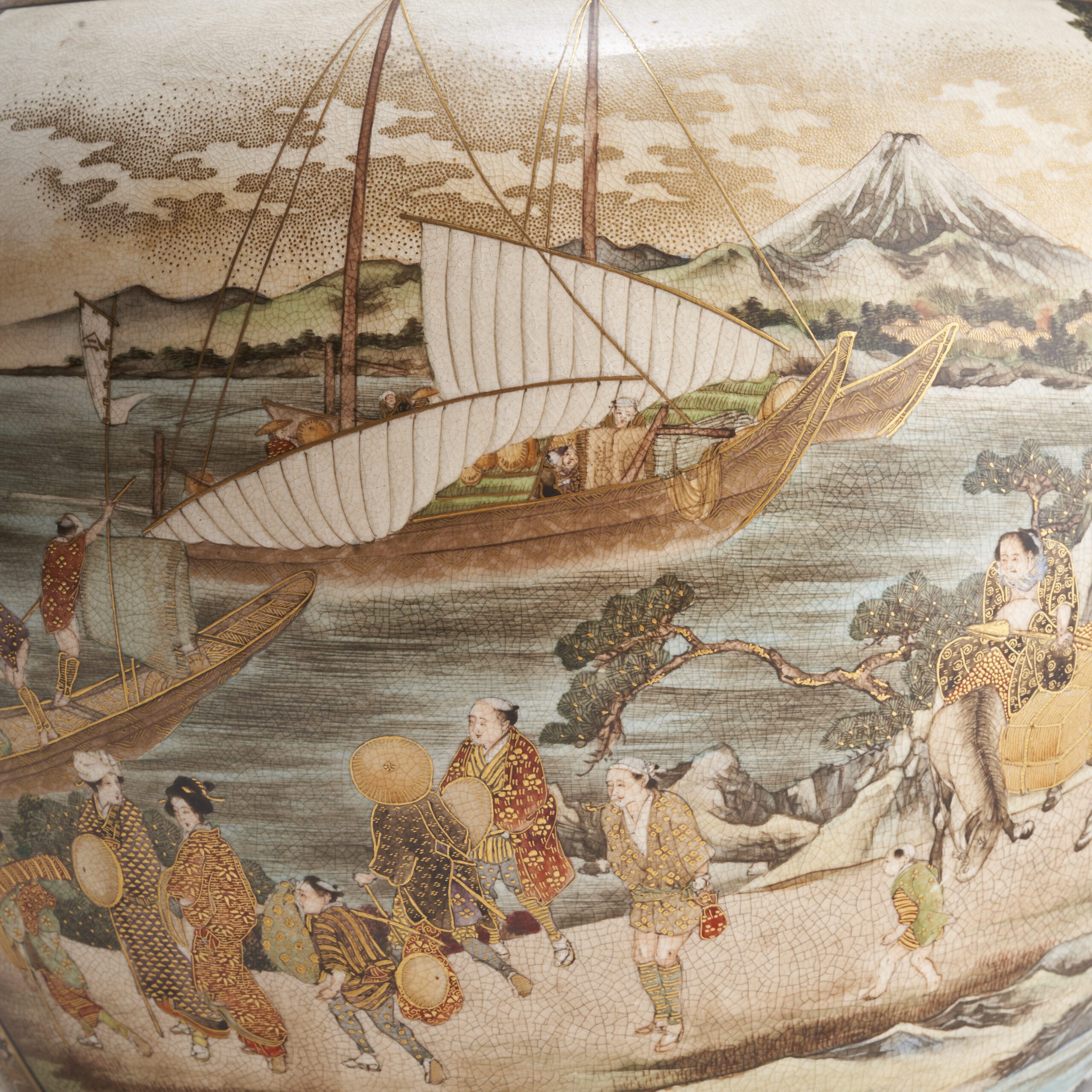 Men and women waiting to board boats to take them to the foot of Mount Fuji
He is particularly noted for his choice of elegant slender-form pottery blanks, often with bamboo-like moulding elements. This is further enhanced by his talent for restraint and refinement. His designs are very considered and balanced showing skill beyond many of the other makers of the time. It is often said that if these works were painted on canvas, then they would be declared great works of art. Just because they are painted on pottery does not mean they should be considered any less so.
An unusual conical form Satsuma vase by Ryozan for the Yasuda Company
Unfortunately, other than his training and his role as Head Artist at the Yasuda Company, there doesn't appear to be any known surviving records of his life. Some academics estimate his date of birth to be between 1820 and 1830 and his death to be around 1910. Due to the known date of Nishimura Zengoro's death and the formation of the Yasuda Company (which we know was founded in 1896), it is likely that he created some of his greatest works while in his 70s and 80s.
The Yasuda Company was founded in 1896 by two brothers, Gensei and Yoshizaburo Yasida. The full name of the company is Yasuda Kyoto Tojiki Goshikaisha) which means Yoshida Kyoto Ceramic Joint Stock Company. They were a manufacturer and dealership based in Kyoto and active during the second half of the Japanese Meiji-era.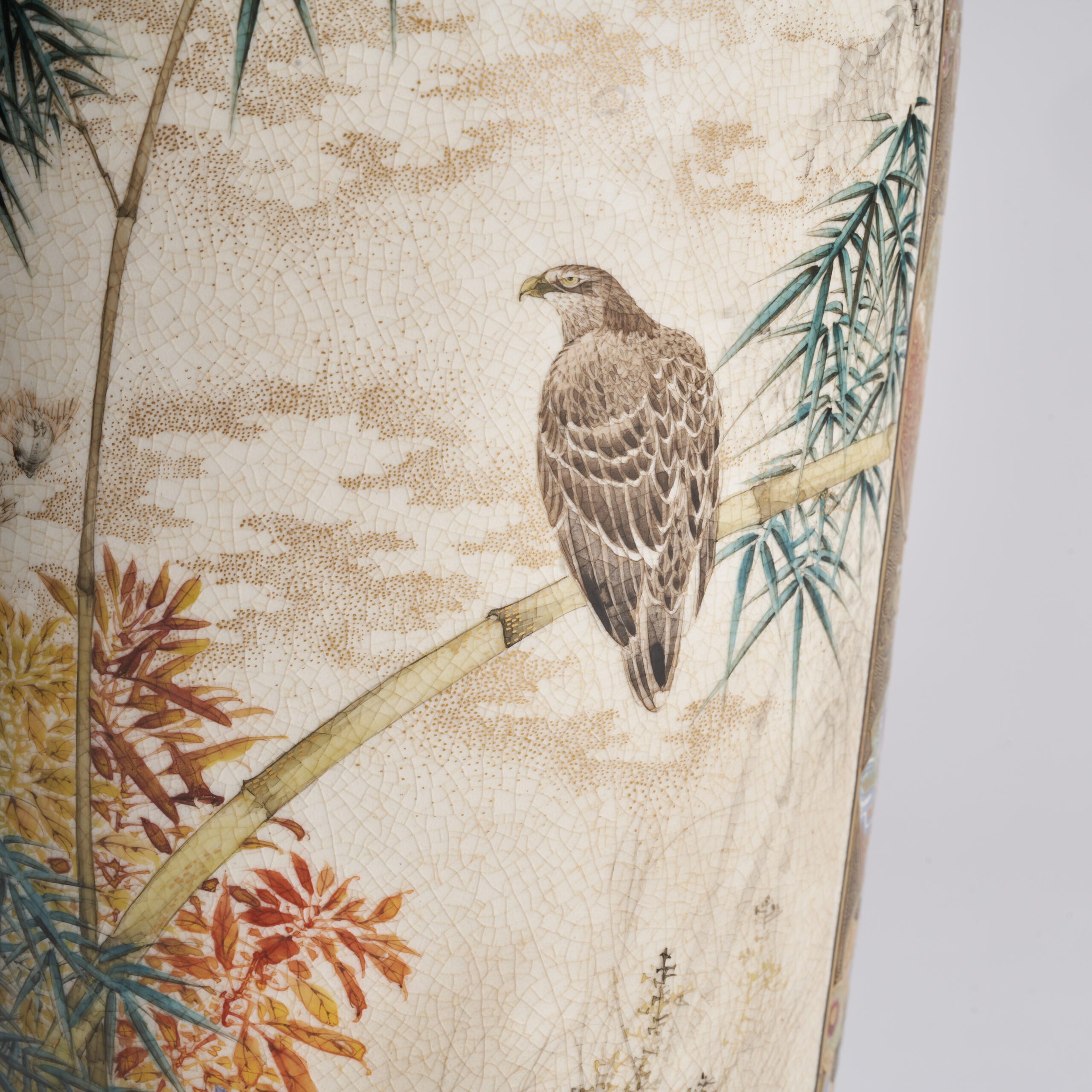 A lone Hawk sitting on a bamboo branch on this exceptional Ryozan vase
The Yasuda Company specialised in decorative works including bamboo baskets, Cloisonne, and Porcelain. But today, they are best-known for their Satsuma pottery wares.
They gained a reputation for their high quality works and had a very keen eye for selecting the best artists. As well as Ryozan, they worked with other celebrated artists such as Sozan, Kizan, Hozan and Seikozan.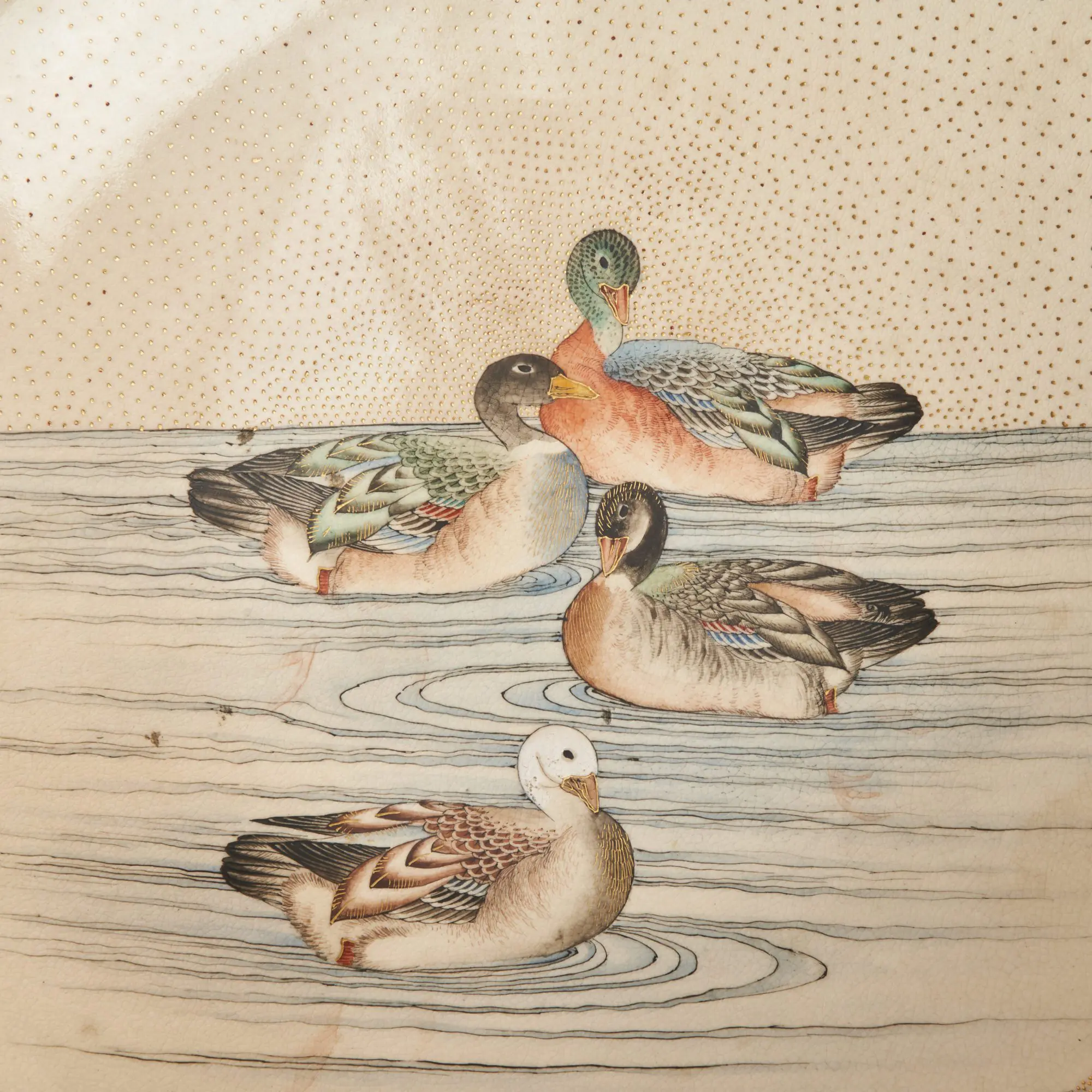 Beautifully painted Ducks swimming on a lake on this large bowl by Seikozan for the Yasuda Company
Their logo is very recognisable and for Satsuma collectors, it is generally a marker of a quality piece of satsuma ware.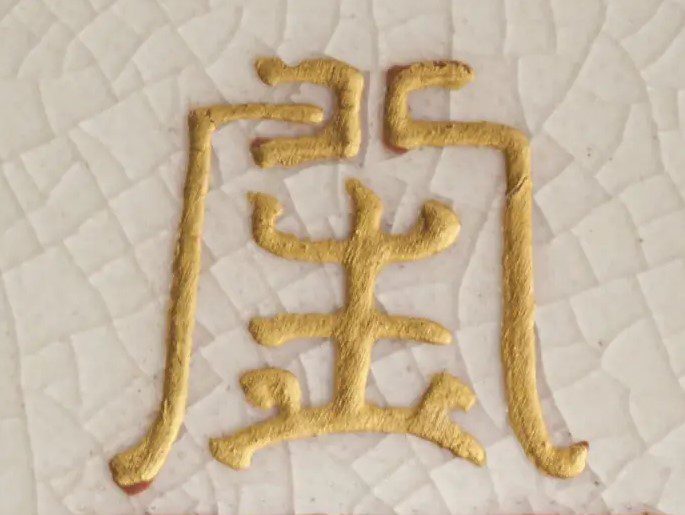 The famous mark/logo of the Yasuda Company
This slideshow shows some more wonderful images of Ryozan works from our collection of Satsuma. You can browse through our online gallery of Japanese ceramics by clicking here.
We hope you enjoyed this short-read blog. You can find more articles inspired by our collection of Chinese and Japanese Fine Art and Antiques by clicking here.