Every few weeks, we will be introducing you to different characters, stories, materials, techniques and artists that feature in our wonderful collection of Chinese and Japanese Fine Art and antiques.
In this article we introduce the wonderful world of Japanese Jizai Okimono.
Allow us to "articulate" further…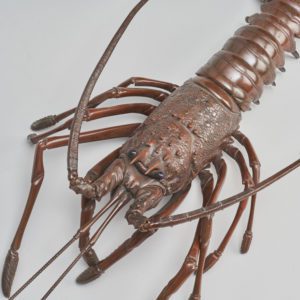 Detail on a large (61cms) fully-articulated spiny lobster
Jizai Okimono are highly collectable, realistic, articulated figures of insects, birds, reptile, sea creatures and mythical beasts.
During the reign of Emperor Meiji, (1868-1912) and as Japan became unified and more peaceful, the demand for armor and weaponry greatly diminished. Eventually the wearing of swords was banned entirely. It is thought that armor makers, no longer required to make weaponry, turned their attention to making other, more decorative items called Okimono. One of the most skilled and highly sought after forms of Okimono was "Jizai" – which means to move at will. These days, we call these objects "articulated."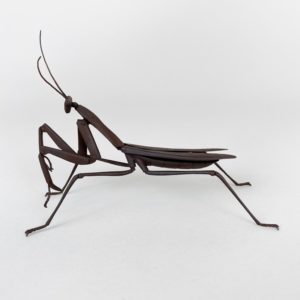 An iron Jizai Okimono of a Praying Mantis signed Kozan (13cms)
After the Meiji restoration (1868), Japan started to promote its industry and art to the Western world. Jizai became popular with collectors in Europe and North America towards the end of the 19th Century with examples appearing in western galleries and magazines as early as 1888.
A large eagle with movable (articulated) wings was exhibited at the World's Columbian Exposition in 1893 and this ignited wider public enthusiasm for these magical Okimono.
Prior to this, Jizai Okimono had been a minor curiosity in Japan and it is this transformation from a Feudal economy to one that exported it's goods beyond international borders that explains why so many fine examples are currently held in Western collections and museums.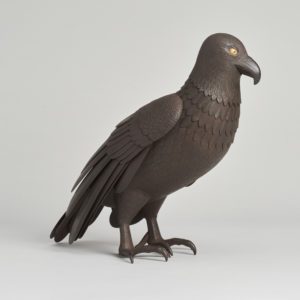 A lifesize Iron Jizai Okimono of a hawk with gild eyes
The size and subjects of Jizai ranges widely, with the largest known being a 2.2 metre dragon in the collection of the Boston Museum of Fine Arts. Smaller examples tend to be insects and small sea creatures such as shrimps and crayfish which are generally rendered life size.
Most early examples are made of iron, but copper, bronze, wood and silver became popular in later designs.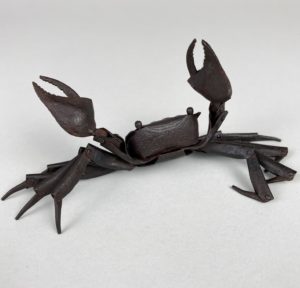 A miniature iron Okimono of a crab
Dragons are one of the most popular subjects for Jizai collectors, their bodies undulate like a snakes. Legs can be moved and jaws usually open and close. The snakes have the most complex movements, allowing them to be positioned exactly as a real snake would move or coil itself.
There are various examples of Jizai birds, these can usually open and close their wings, move their heads and close their claws. Most lobsters or prawns can move their claws, legs and feelers, some can curl their bodies underneath themselves.
There are many examples of insects, including crickets, praying mantis and stag beetles, they can move their legs and feelers and if they have wings they can usually spread them or open the wing casing.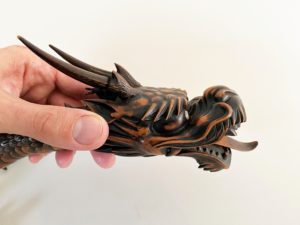 A fully articulated dragon with opening jaws and movable tongue
There are very few Jizai Okimono of Human figures. Articulation tends to be limited to moving heads and legs. To our knowledge, there is only one fully articulated human form Jizai to exist.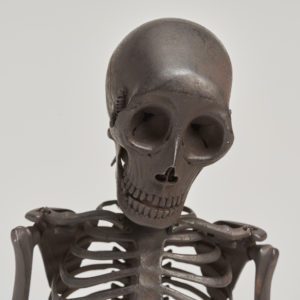 A rare and unique fully articulated Iron Okimono of a human skeleton. This piece won the award for Best Object at the 2019 LAPADA Arts & Antiques fair in Berkeley Square, London
Here at Kevin Page Oriental Art, we have a fine collection of Jizai Okimono ranging from 4cms to over 60cms in length. Please don't hesitate to contact us for more information or to arrange an appointment to visit our Islington Galleries. Thank you for reading.