It's the Chinese Lunar New Year and although celebrations will undoubtedly look and feel a bit different this year, we are very much looking forward to welcoming the Zodiac year of the Ox.
It is believed that the Ox possesses qualities such as strength, reliability, fairness, a noble conscience, calmness and patience as well as being an inspirational and methodical character. These are all attributes that we hope will lend themselves to the upcoming 12 months.
To mark the New Year, we are showcasing this wonderful (large) Bronze Okimono of the Japanese Deity Hotei, sitting atop a sturdy looking Ox.
Hotei also has many positive qualities so we are hoping that the combination of these two revered characters will being us all health, happiness and prosperity. You can see more great images like the one below, by clicking here.
Popular as a subject in Chinese art and ceramics, the Ox is often depicted in works of art such as in this detail from a Monumental, 19th Century Blue and White rouleau vase.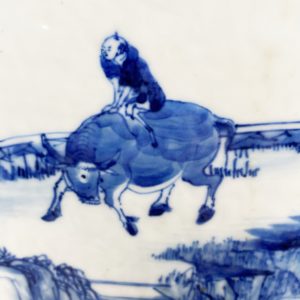 To see more images of this fantastic large vase, click here
There is also this charming smaller Bronze Okimono of an Ox with gilt eyes which we enjoy and you can see more photographs of here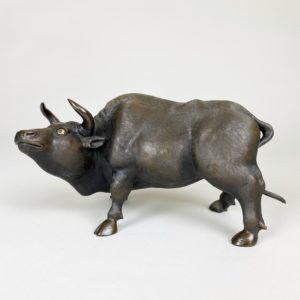 We would like to wish all our friends, customers, followers and partners an auspicious, healthy and happy 2021.