Today, Monday, 8th March 2021, is International Women's Day. A global day celebrating the cultural, social, economic and political achievements of women. Here at Kevin Page Oriental Art, we are marking the occasion by showcasing six fantastic pieces depicting women from our collection of Chinese and Japanese Fine Art and Antiques. Enjoy the read.
1: Noble ladies
This detail from a spectacular, large Satsuma vase by Ryokuzan depicts noble ladies and their children, dressed in elegant robes underneath blossoming Wysteria. Click here to find out more about this vase.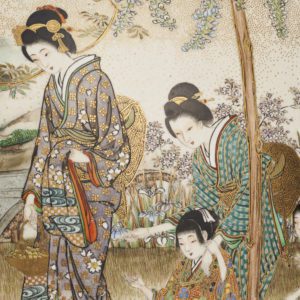 2: Shojo
Shojo is a Japanese sea spirit with red hair and a love of alcohol, Shojo are usually jovial friendly characters who enjoy dancing.
In Japanese several red plants and animals have the word Shojo, as part of their names including the Orangutan and the acer tree, which is why this Shojo has an Acer on their kimono.
Read more about this wonderful lacquer Okimono of Shojo here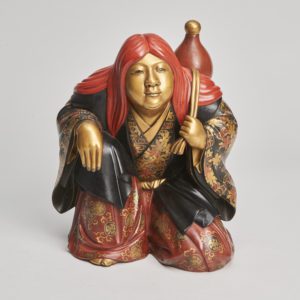 3: Mother and child
This detail on a Satsuma dish from Kinkozan depicts a Mother and her assistant doting on her two children. See more here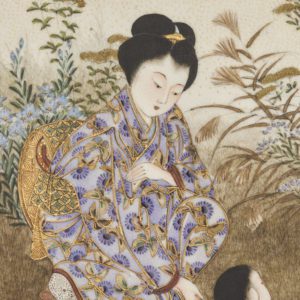 4: Bijin
Quite simply, Bijin translates as Beauty and we can see why. This wonderful figure stands tall at 64cm in height and is from the celebrated Kinkozan studio.
See more wonderful images here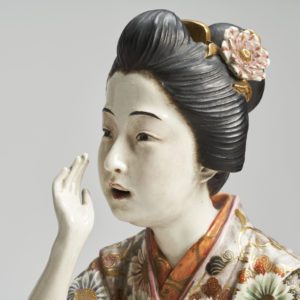 5: Tae of Eguchi
This spectacular multi metal panel depicts Tae, the Courtesan of Eguchi. Legend has it that in the 12th Century, a monk by the name of Saigyo was denied entry to a brothel in the Osaka district of Eguchi because he was a man of the cloth. He protested stating that a person who has not renounced the world should not presume to deny lodging to one who has.
The image of Tai sitting atop an elephant is a parodic reference that there is no fundamental difference between sanctity and sin. See more wonderful images of this scene here.
6: Courtesan
This beautiful female figure can be identified as a courtesan from her elaborate hairpins and obi which fastens at the front, the obi is lavishly decorated with a large koi carp swimming up a waterfall, the word Koi in Japanese sounds similar to the word for love so could hint a romance between the courtesan and her partner. You can read more about this elegant Okimono group by clicking here