We recently signed a partnership with the exciting new Antique, Vintage and Design platform The Bruno Effect, and ahead of the launch (June 2021), Kevin sat down with journalist Dominic Lutyens to reflect on 50 years in dealing in Oriental Art and to talk about the exciting new developments in the business.
Kevin Page reflects on 50 years in Oriental art and antiques
Cultural curiosity and an enterprising spirit, evident from a young age, drove Kevin Page to become one of the world's leading dealers of – and authorities on – Chinese and Japanese antiques. "I started dabbling in my late teens in a wide range of genres, not just Oriental ones but anything I thought would sell, from European pieces to silverware," he recalls, casting his mind back to the years before he opened his first shop in Winchmore Hill in Enfield, north London in 1968 after quitting his job as a travel agent. Page met his future wife and business partner Maureen around this time.
"We regularly trawled Bermondsey Market in South London on Fridays, then crossed town to Portobello Road on Saturdays," he says. Antiques-hunting back then wasn't for the faint-hearted. "We'd be up before dawn, travelling up and down the country, scouring markets, visiting local dealers. I gradually gravitated towards Oriental art because I could see how exceptional it was – and how well it sold."
In 1972, the couple relocated to the charming, characterful Camden Passage in Islington, North London – then a key epicentre of antique dealers – where they opened their shop, Kevin Page Oriental Art. "Back then, some 350 dealers operated in and around this little corner of Islington. On market days – Saturdays and Wednesdays – coachloads of dealers, collectors and antiques enthusiasts would come looking for bargains. We'd often open our doors in the morning to find customers queuing to see what we had to offer.
In 1984, Kevin and Maureen bought 2-4 Camden Passage (formerly a restaurant).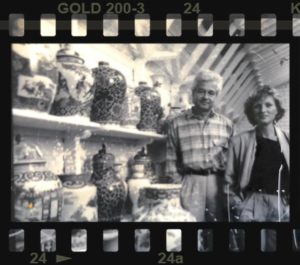 Kevin & Maureen at 2-4 Camden Passage
Some dealers might have avoided specialising in artefacts from the far-flung Far East since this required learning about unfamiliar artistry and skills practised by a non-Western culture. But Page invested time and effort in learning about these finely crafted pieces, doing so in a non-academic fashion. "My education was…… Read more
You can read the article in full and find out more about The Bruno Effect here.