We are now just a few short weeks away from the start of the new Lunar Year, (Chinese New Year) so as we start to prepare for The Year of the Ox, it feels like the right time to say farewell to this years Zodiac animal, The Rat.
…or more specifically, The Metal Rat.
(The Lunar Year cycles through twelve animal signs and five different elements. The elements are fire, earth, wood, water and metal.)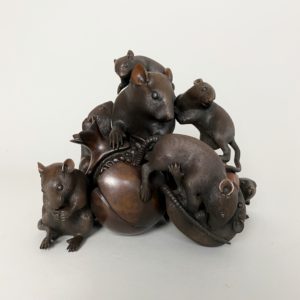 (An Okimono of rats devouring a pomegranite. Click here to see more.)
Throughout Asia, the rat doesn't carry the negative connotations that we think of here in the Western World. These long-tailed rodents represent prosperity, fertility, wealth and social success. In fact, because of the rats' incredible reproduction rate, newly married couples hoping for children will often pray to the rat. Those born in the year of the rat are thought to be quick thinkers content to live a quiet, familial life.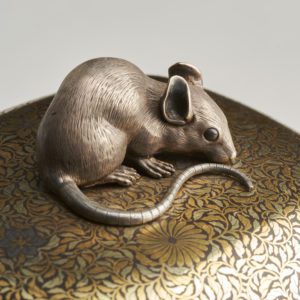 (A fine multi metal Koro with rat decoration on the cover. Click here to see more of this wonderful piece.)
The rat is often depicted in Oriental Art and was a popular subject of many Japanese artists and crafts-folk. They are often portrayed as being cute and slightly chubby. (A fat rat is a prosperous rat.)
Despite their popularity and propensity to represent good fortune, 2020 (rather eerily with hindsight) was predicted by many to be a challenging year. The combination of the rat and the metal element was seen to bring with it health issues and unpredictable situations.
(A family of rats devouring a pumpkin. Click here for more information.)
Fortunately, the year of the Metal Ox (2021) is predicted to be a lucky year. We will talk more about the Ox next month. For now, we wish you all the best for what remains of the Year of the Rat.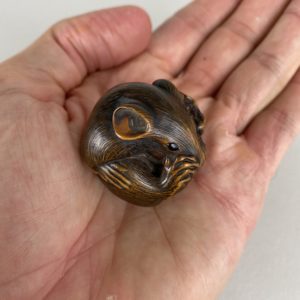 (A delicate wood Netsuke of a rat or mouse, by Masanao. Read more here)
(The lead image on this blog is an exquisite Okimono of a nest of rats by Maruki. You can see more here.)