It has been very quiet in our little corner of North London over the last few weeks as the country entered into a second National Lockdown. So with that in mind, we were delighted to hear the news earlier this week that from Wednesday, 2nd December, we will be able to re-open as this latest shut down comes to an end.
Islington (our Borough) returns back to the Tier Two level of restrictions and this means that shops, galleries and retail in general will be able to open providing that we are able to comply with the social distancing regulations.
We will be opening on a strictly "Appointment Only" basis at this time, so if you are planning a trip to London, make sure to contact us in advance and we will do our best to ensure that we can accommodate your visit.
We have an ample supply of face-masks, sanitisers, hand gels and more and all visitors will be asked to check-in upon arrival.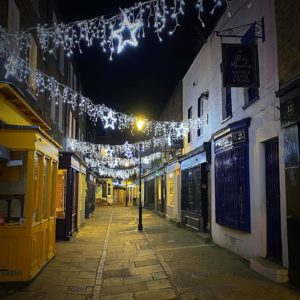 All is calm… All is bright. Our beloved Camden Passage during the recent lockdown.
Camden Passage (and the wider Angel area) is a wonderful place to visit during the festive months. As well as the galleries, antique shops and boutiques, there is an ever-growing (even during these challenging times) selection of eateries, independent coffee shops, and bars, not to mention the twice-weekly (Wednesdays and Saturdays) covered market.
Contact us by clicking here to arrange your appointment.