Our Featured work of art for September is this exquisite, large Japanese Meiji Period (1868-1912) Satsuma vase, with finely painted panels depicting a Tiger in a bamboo forest crossing a stream. To the reverse a landscape of the Temples and Shrines at Nikko
(Click any of the images on this post to see the product page for this wonderful vase)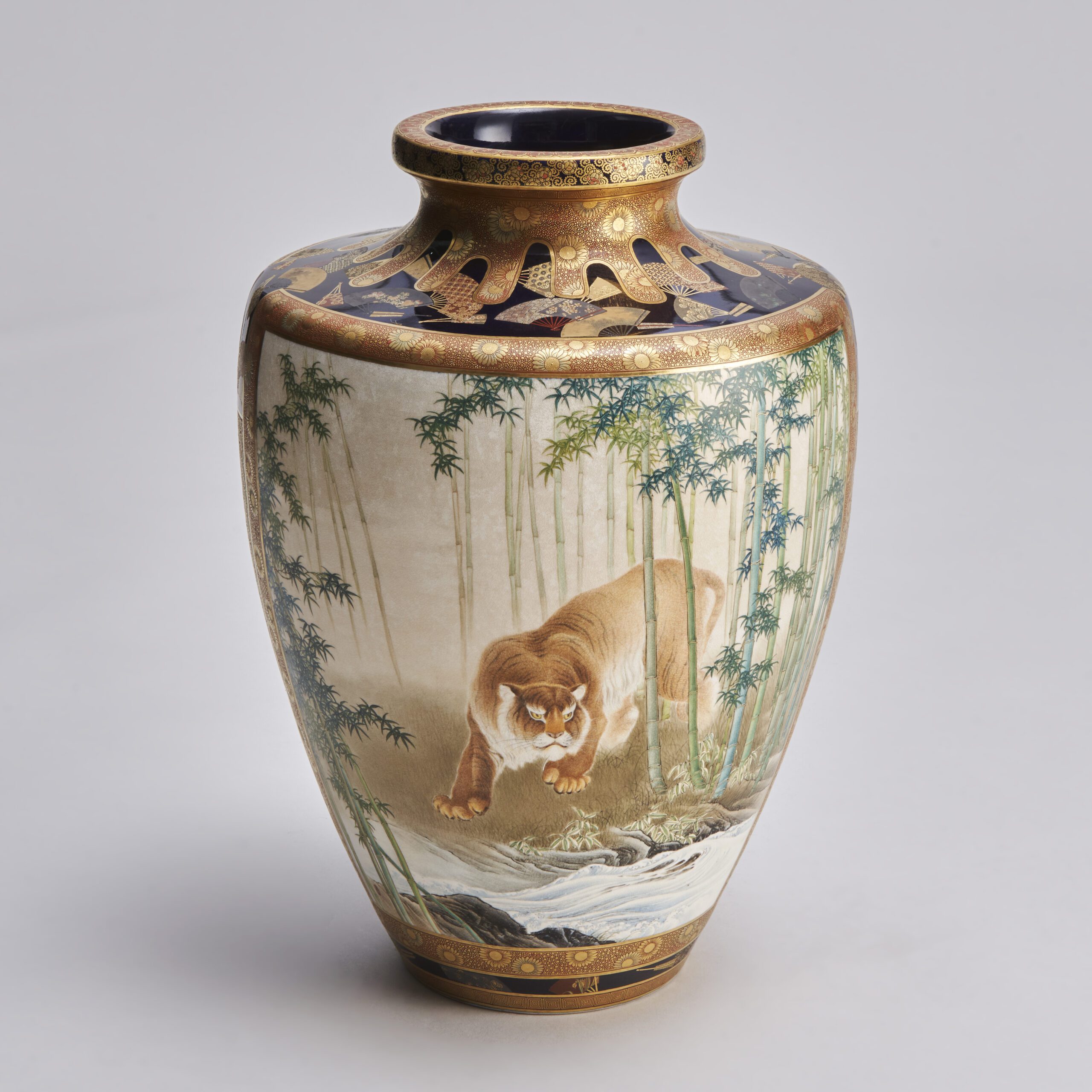 Tiger
The Tiger is not native to Japan, but it plays an important part in the culture and legends of many Asian countries. Due to international trade and the spread of Buddhism and Taoist religions, Japan became aware of the existence of this enigmatic animal and although its appearance in Japanese art isn't common, it is significant.
According to Japanese legend the Tiger is said to have leapt from the stars. and so is closely associated with the wind. Its roar being a manifestation of thunder. It's often paired with the mighty Dragon, together symbolising the power of the cosmos. They are said to govern the elemental forces of wind and rain and the pairing of the two is believed to bring peace.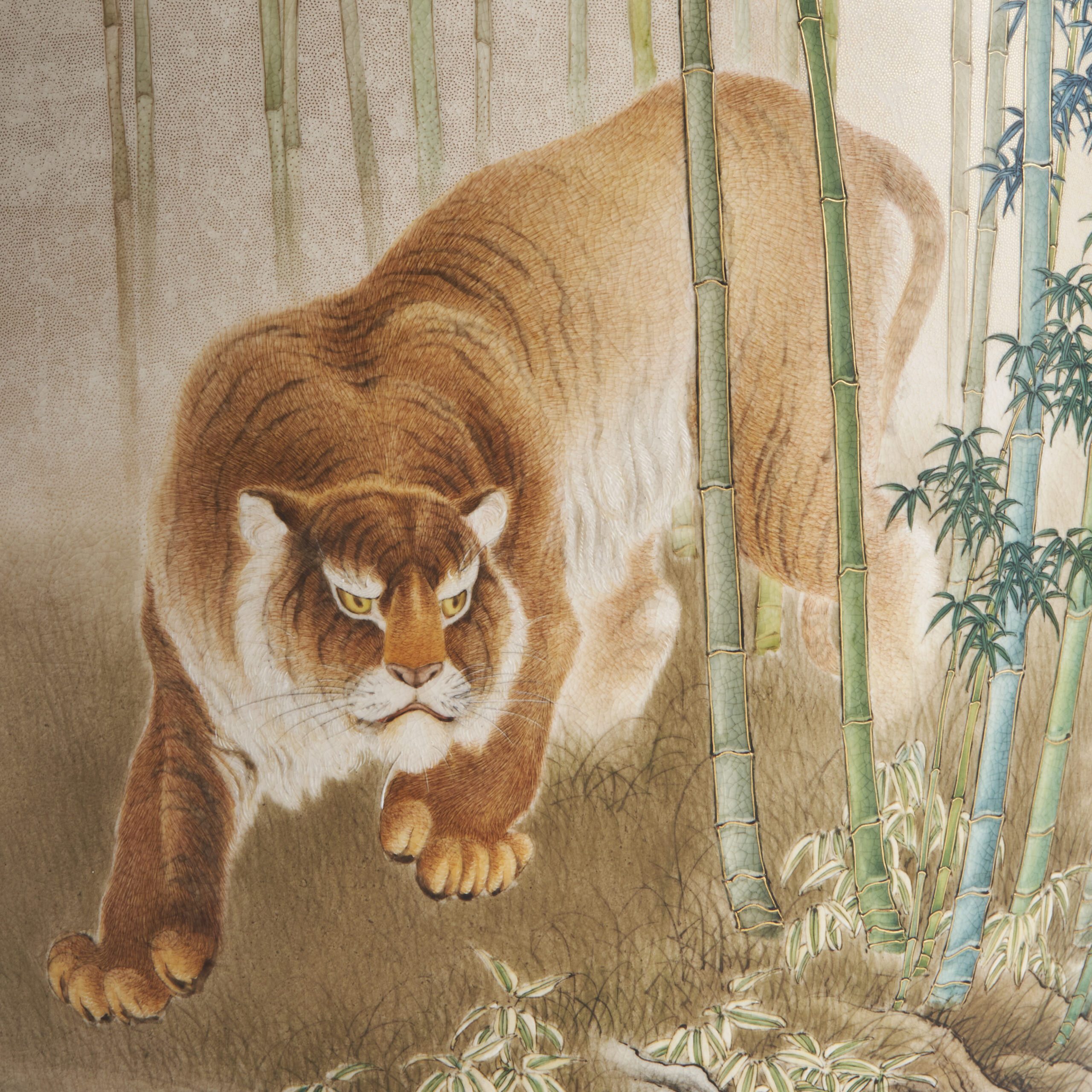 In Buddhism, the Tiger represents strength, nobility and courage – qualities which made it a favourite animal and symbol of the Samurai. It takes a more menacing tone in the Toaist religion where it is seen as a frightening predatory creature associated with hunger and the termination of life. Because of this and it's colouring, it is also a symbol of Autumn.
The Tiger crossing a stream is a motif seen in many Edo period (1603-1867) paintings. Yamamoto Jakurin and Yamada Yorikiyo (both have examples held in the Minneapolis Museum of Art) may have inspired the powerful image of a Tiger seen on this Sozan vase.
During the Meiji period there was a shift in the way Tigers were depicted in art. The first half, (1880 – 1895) sees them more fluid, almost mythical creatures with a slightly softer look. In the later Meiji period (1895 – 1912) they become influenced more by Western ideas of what a Tiger should be and they become much harder, literal ferocious depictions.
The tiger seen on this vase is more of the former, although he has a serious expression and stance the way he is painted portrays a powerful mythical presence. The clever usage of a thinner glaze to give perspective to the image makes it look as though he is appearing, ghost-like from the bamboo forest. This shows a deeper understanding of the animal by the artist. Tigers are known for their almost ghost-like abilities when stalking prey, despite being the largest big cat they can appear out of nowhere.
Nikko Temple
The shrines and temples of Nikko comprises 103 structures including two Shinto shrines and one Buddhist Temple plus other buildings and structures as well as the natural setting around them. They are located in Tochigi Prefecture in Japan. Nine of the structures are designated National Treasures of Japan and it is a UNESCO World Heritage site.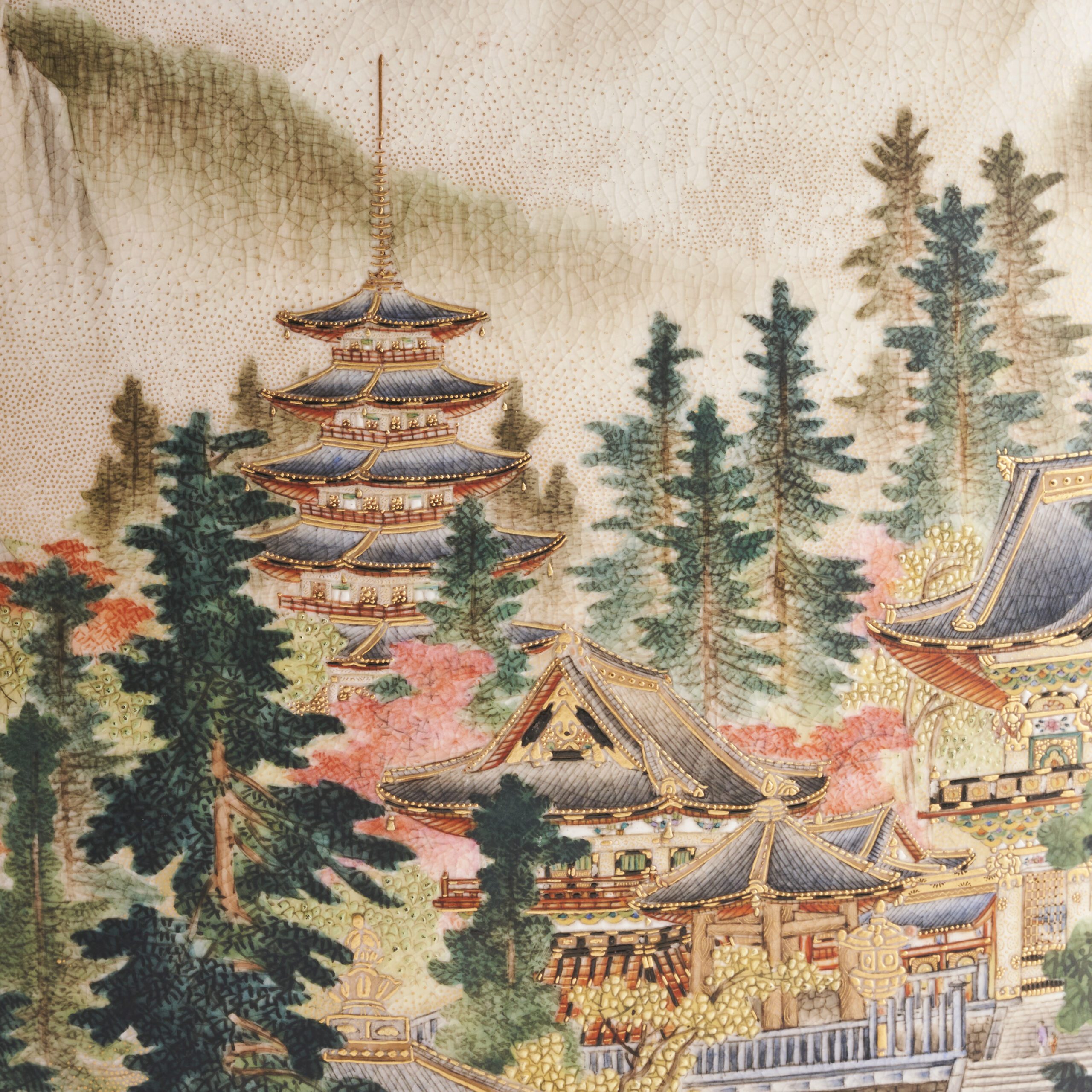 The majority of the buildings date to the 17th century with the famous Gojunoto five storied pagoda added in 1818. For hundreds of years the scenic grounds and buildings themselves have provided inspiration for generations of artists. They are often seen decorating Satsuma ware and were a favourite subject of Sozan and appear in many of his works.
The scene depicted on this vase shows the main gates and shrines as well as the pagoda. They are surrounded by pine and acer trees, the acers trees are in full autumn foliage which subtly links with the tiger on the front of the vase, due to the Tigers' links with Autumn in Taoism.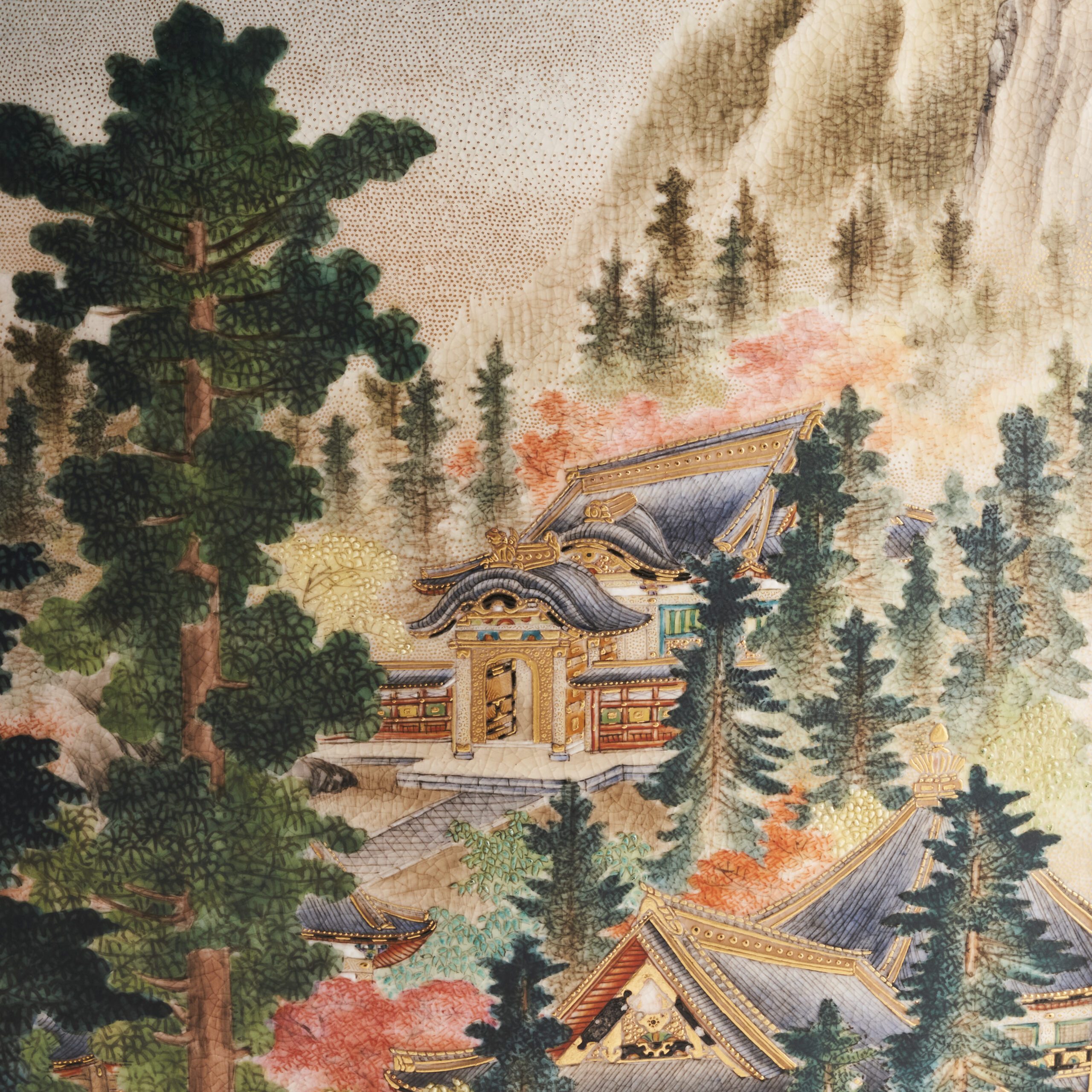 Borders
The borders of each panel are decorated with a detailed chrysanthemum design. This flower represents longevity, nobility and rejuvenation, it is a symbol of Autumn (fall) and the motif is used to represent the imperial family and Japan itself. The blue ground of the vase is broken up with a stylish detailed design of fans.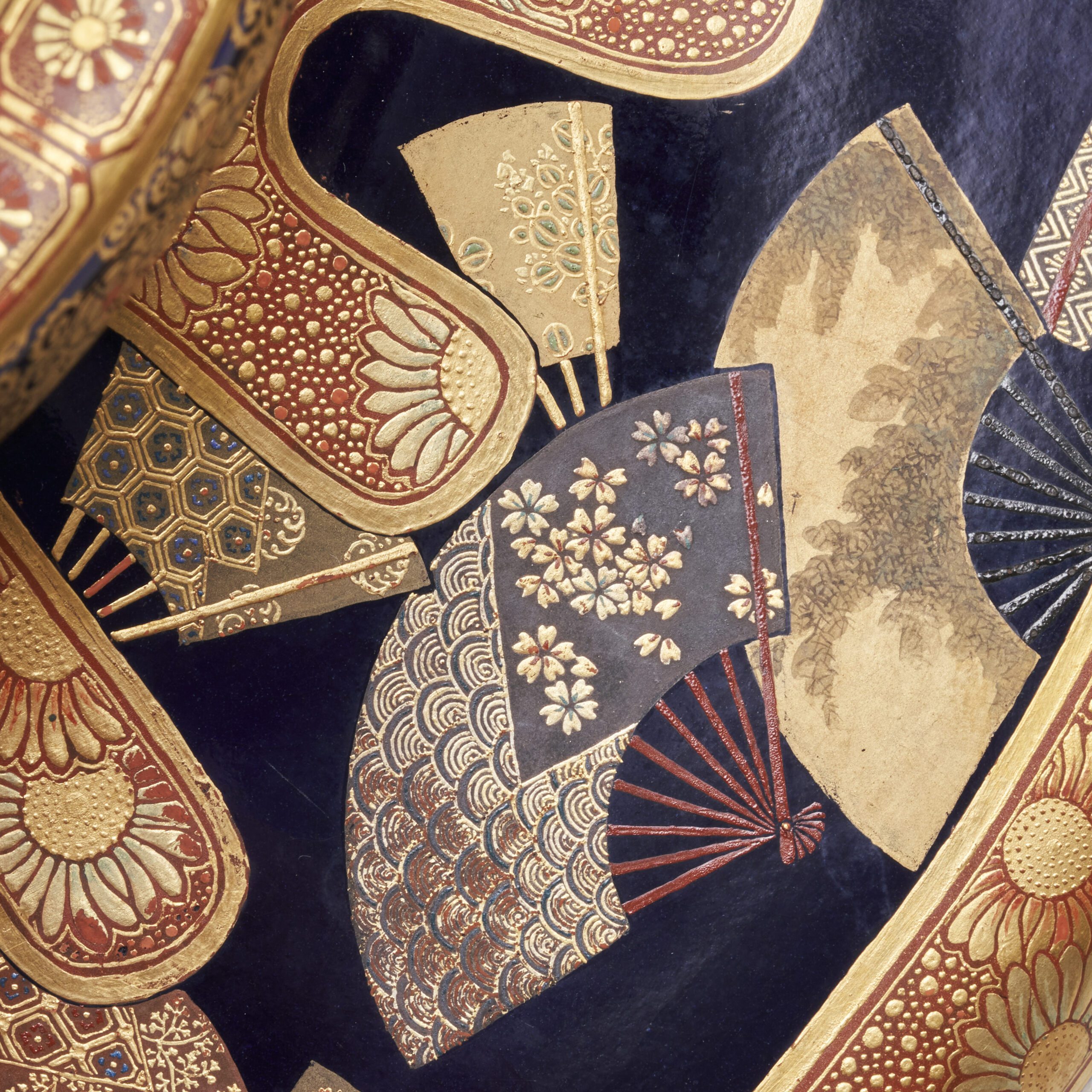 Fans are hugely significant to Japanese culture; they are a symbol of life itself, the thin end being birth and the blades representing the many paths life can take. They are also said to represent the sun. From a practical point of view they are used to keep cool, but they also convey wealth, status and are used as a communication tool. The fans on this vase are depicted in exquisite detail and are miniature artworks in their own right.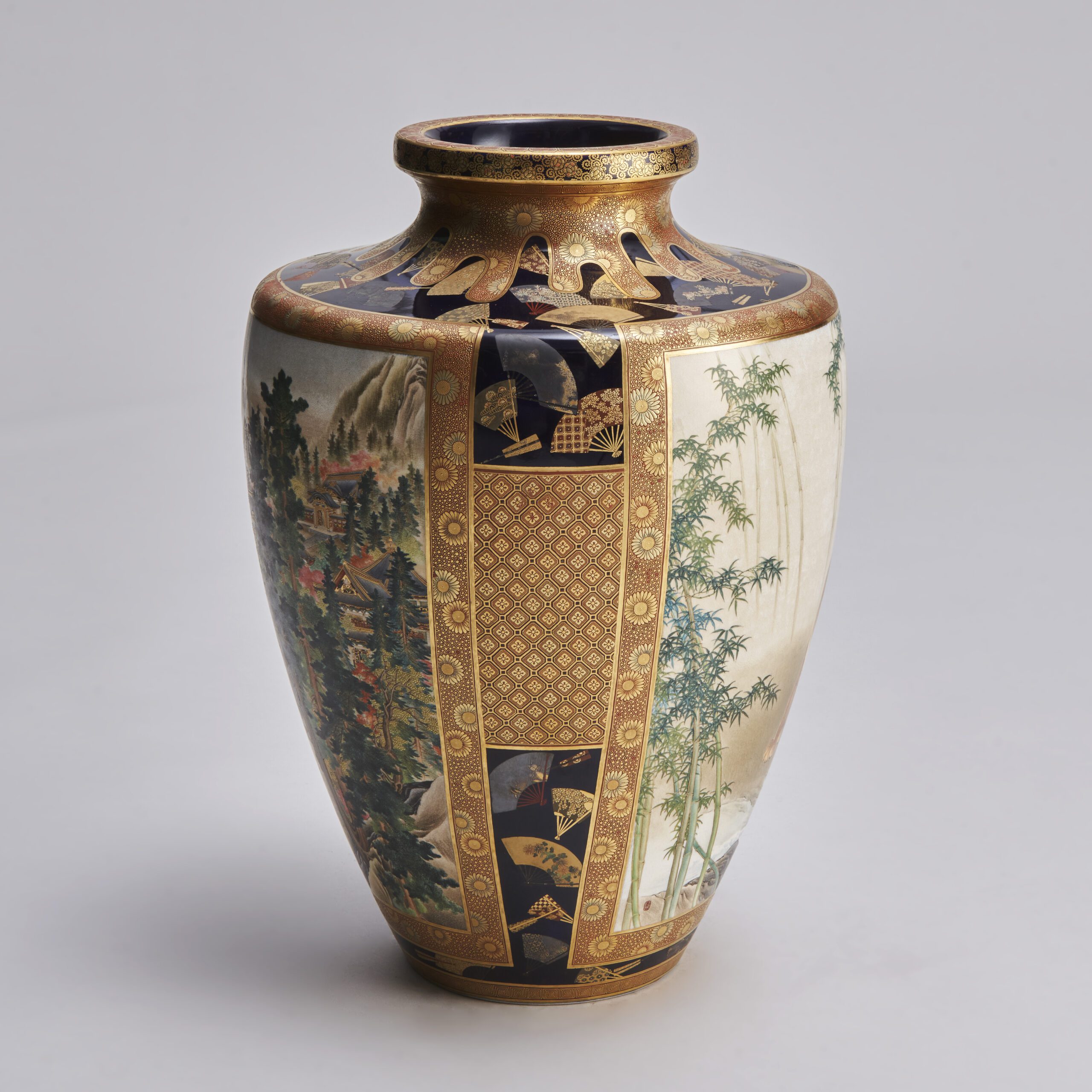 Sozan and Kinkozan
Sozan was the principal artist at the Kinkozan workshop in Kyoto. Like many artists of the time his birth and death dates are not recorded, but he left behind many impressive works.
We know he was active during the Meiji Period (1868-1912), as Herbert Ponting a documentary photographer visited the Kinkozan workshops in 1904 and wrote it in his book 'In Lotus Land Japan' he described the scene '…these artists work in little houses in the garden, where weeks and somethings months are spent on the embellishment of a single vase.'
Kinkozan owned a huge complex, and within this, small pavilions were placed in a tranquil garden, these were reserved for only the finest artists, giving them space to create their finest works. There are relatively few artists deemed skilled enough to be allowed to sign their own name on the Kinkozan works: Sozan was one of these and many of his works would have been destined for exhibitions and exclusive clients worldwide. This vase is very likely to have been created for this purpose, the very deep blue glaze is expensive and difficult to create as more pigment is needed to achieve a flawless mirror like finish
https://kevinpage.co.uk/stock/an-exceptional-rare-and-large-41cm-in-height-satsuma-vase-by-sozan-for-the-kinkozan-studio-circa1880/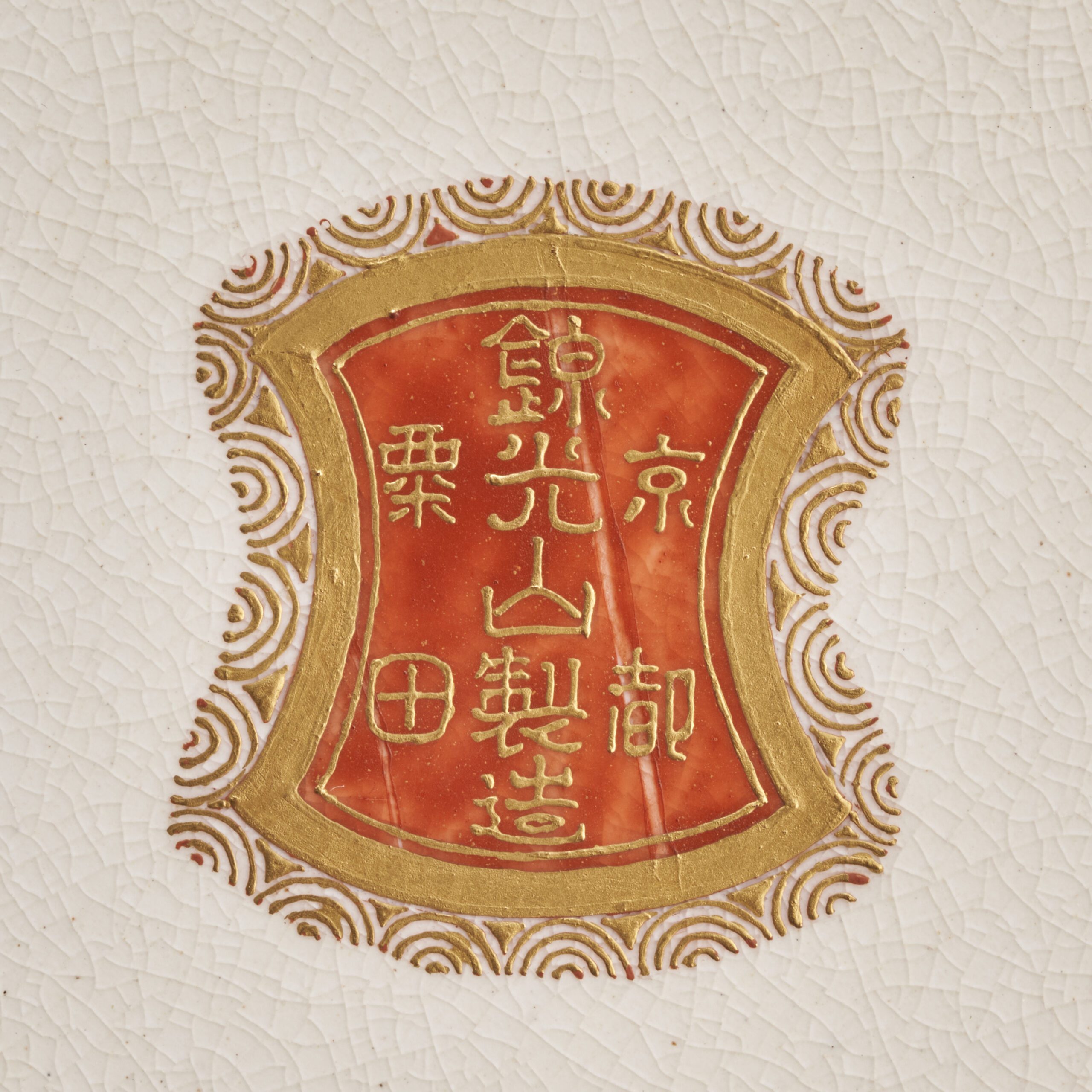 The high quality of painting and attention to detail is unmatched in Sozans work, looking closely, minute dots can be seen, these are each painstakingly painted and used to create a subtle dreamy shading. This vase also displays several more classic traits Sozan liked to use in his work; he preferred to paint scenes within panels, as it allowed him to create focal points.
He was also influenced by Western styles of art and expertly combined them with Japanese art principles. For example, he often uses Western perspective but combines it with the deliberate compositional styles of classical Japanese art. The drip border is a trademark motif he also employs, its bold shapes are reminiscent of the glazes used on ancient satsuma ware. They allow him to create flowing patterns more inspired by nature and water, contrasting with his favoured crisp panel borders.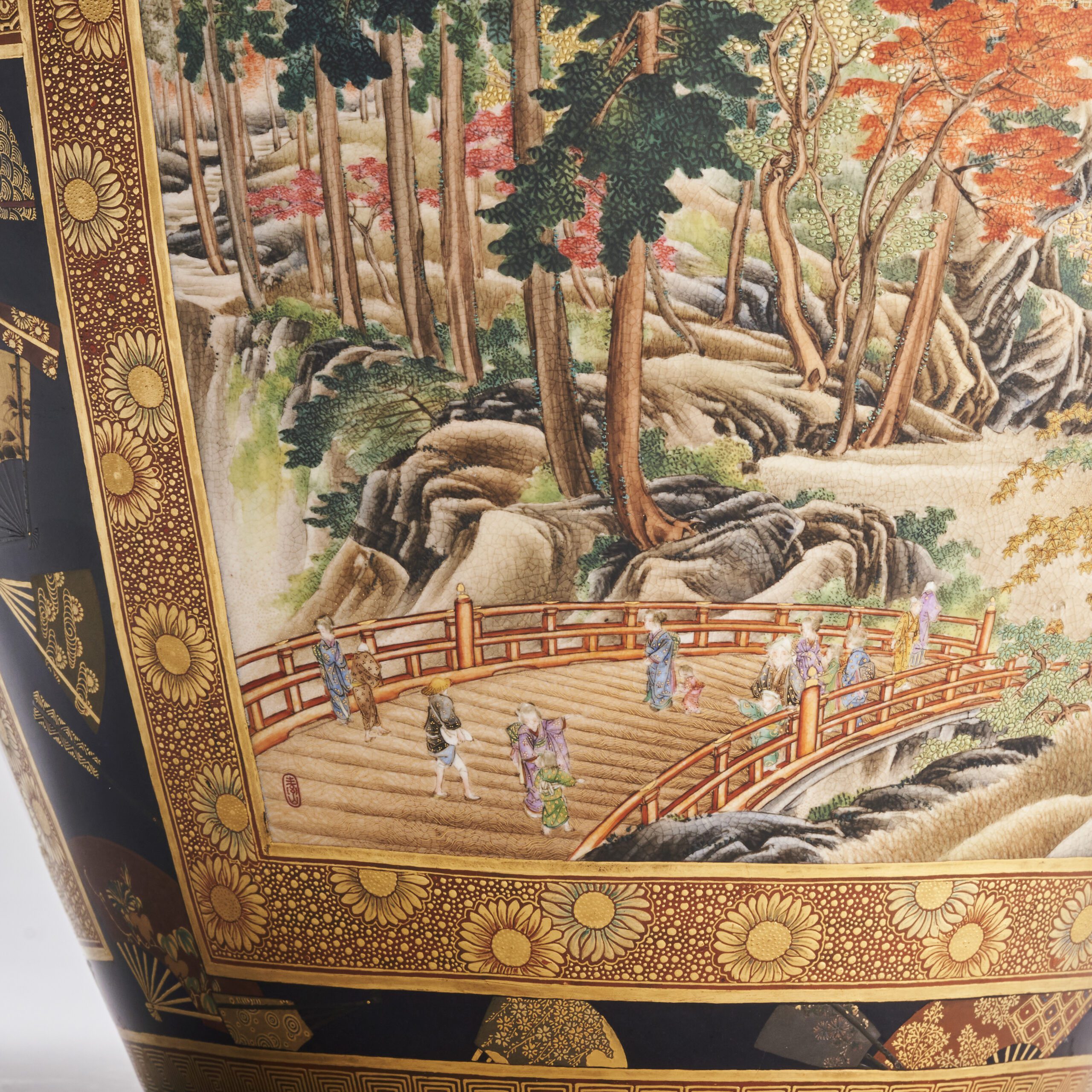 For more information about this wonderful example of Meiji-era craftsmanship, please don't hesitate to contact us.