It is four years to the day, since we awoke to the news that a water main near to our Islington Galleries had burst. It caused what was later described in the National news, as a "Tsunami ripping through the heart of Camden Passage."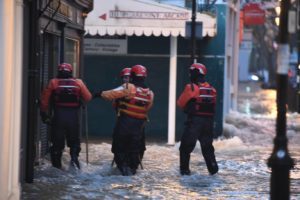 Main photo credit: Emergency workers outside our Gallery doors on Camden Passage, on the morning of 5th December 2016. Looking toward Pierrepont Row and Islington High Street. (Jeremy Selwyn. From the London Evening Standard, 21st July 2017.)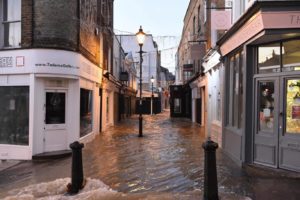 Troubled waters: The deluge flows through Camden Passage and down to Charlton Place. Photo credit: Jeremy Selwyn (From the London Evening Standard, 21st July 2017.)
Over 50 households and businesses in the immediate vicinity were evacuated and it was a miracle that there were no fatalities and that nobody was badly injured.
Despite that, 35 businesses along Camden Passage, Pierrepont Row and Pierrepont Arcade were severely impacted by the deluge. Some were able to reopen after just a few weeks, but others (including ourselves) had to wait nearly two years to get the all clear for trading to begin again.
Our ground floor and basements were literally submerged and we were faced with the heart-breaking sight of priceless Ming vases literally bobbing into each other on the surface as the flood levels continued to rise.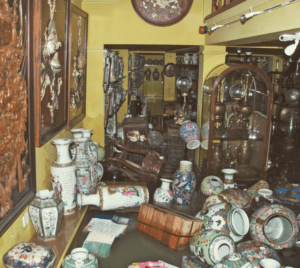 Heart-breaking to see: Precious antique Chinese vases, furniture and Japanese metalwork and Okimono floating on the surface in our old lower mezzanine room. A famille rose Vase wedged in position. A sign of how high the water had previously been.
Eventually though, the water began to subside and the salvage and clean-up operation began. A complete refurbishment of the property was required, which would itself cost hundreds of thousands of pounds.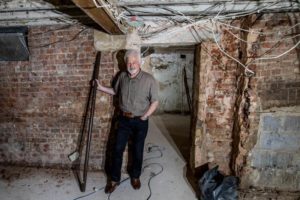 After the flood: Kevin surveys the basement of 2-4 Camden Passage. Photo credit: Alex Lentati (From the London Evening Standard, 21st July 2017.)
Four years on and a business that was started more than five decades ago is still standing strong, is in wonderfully renovated premises and is looking forward with a renewed resolve:
A new address (just around the corner on Pierrepont Row), a new website and a steadfast reputation as one of the most trusted and finest dealers of Chinese and Japanese Fine Art and Antiques.
Our new logo is actually a subtle nod to the events of 5th December 2016 and the months that followed. The claws of a Chinese dragon emerging from a fierce wave (inspired by the work of Japanese artist Hokkusai). The motif represents perseverance, strength, resilience and good luck as well as reflecting our passion for Chinese and Japanese Fine Art and Antiques.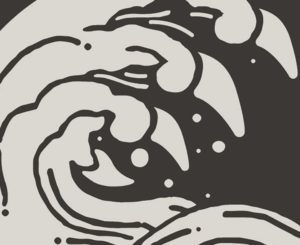 The new wave: Close-up section of our new logo as KPOA looks forward to an exciting future in the digital age.
Despite tragically losing many, many precious works of art in the flood, we are proud to say that we still hold one of the finest collections of Oriental Art and Antiques in Europe and we continue to hunt out great new pieces.
We have started adding some of these pieces to these pages so for a virtual tour of our galleries, click here.
We are open by appointment so to arrange a visit to Pierrepont Row, click here.
Main photo credit: Emergency workers on Camden Passage, looking toward Pierrepont Row and Islington High Street. ((Jeremy Selwyn. From the London Evening Standard, 21st July 2017.)